Discussion Starter
·
#1
·
I was sorting through some of my grow outs last night, and took a quick snap of few froglets (some are now 5-6 months now though...so maybe frogs is a better word!).
I am always amazed by the variance seen on these transitional morphs...they fascinate me.
These three frogs are all from the same breeding trio of Ranitomeya imitator "Chazuta", different "clutches". Not just the patterning on the body, but especially the wide variance seen with leg patterning (and stomach, which you can't see here). Here are three good examples of the differences:
October 2020 OOTW (love this guy, mine don't typically have patterning like this on the body and legs, including feet, with the pale greenish colour):
January 2021 OOTW (almost looks like a perfect imitation of a standard striped R. variabilis, more standard leg patterning and colouration):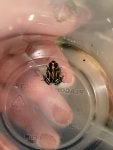 February 2021 OOTW (very nice yellow/gold on the legs, less common. THis one is a bit younger, some of the features will flesh out a bit still, but in my experience the gold colouration will remain):
Comments/discussion welcome! Thought I would share!