Discussion Starter
·
#1
·
Hi guys, this is my first post here! Thought I'd share the first notes on my first proper build (ie not using any pre-formed backgrounds, I have done planted ones before on cocofibre etc.). I decided to convert this old aquarium which was a FREEEBIE!
I started by getting glass pieces for the roof cut size allowing for the vent etc. I am trying a silicone bead hinge between the door and the fixed parts around the vent at the back! This seems to work for now, but the real test will be when it's in actual use! We shall see!
I then got the water feature set up and running. This is going to be water running down a piece of bog wood, then forms a shallow stream to the front of the viv. The waterfall is a ZooMed kit with a pipe going into the back of the bogwood and the wires run up the cable riser (PVC pipe). I drilled a hole further into a natural rot hole/cavity to run the water out of.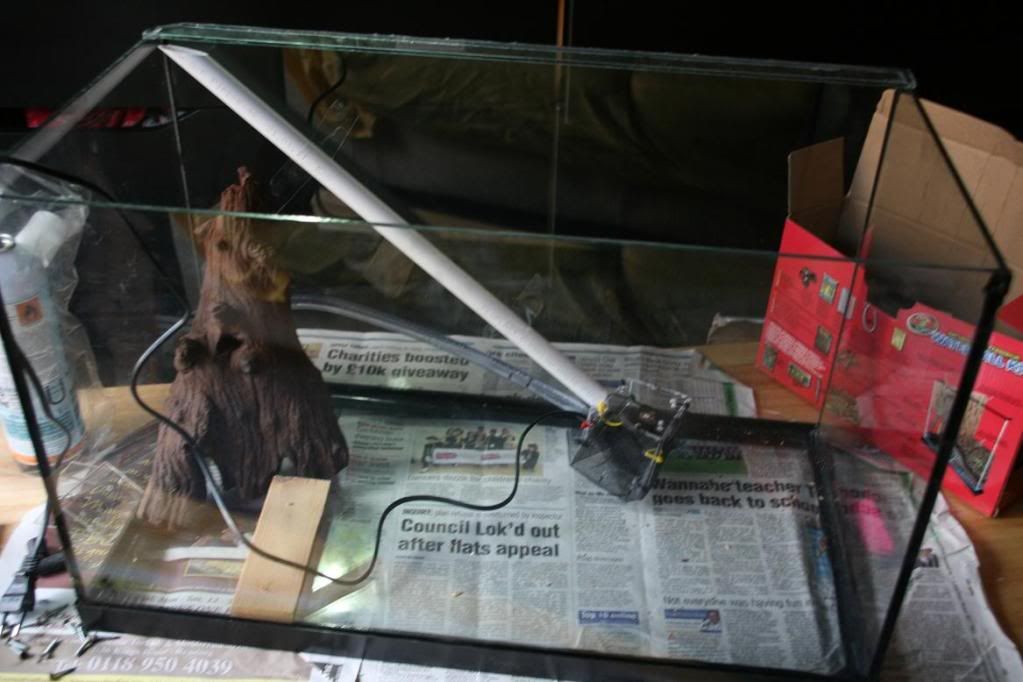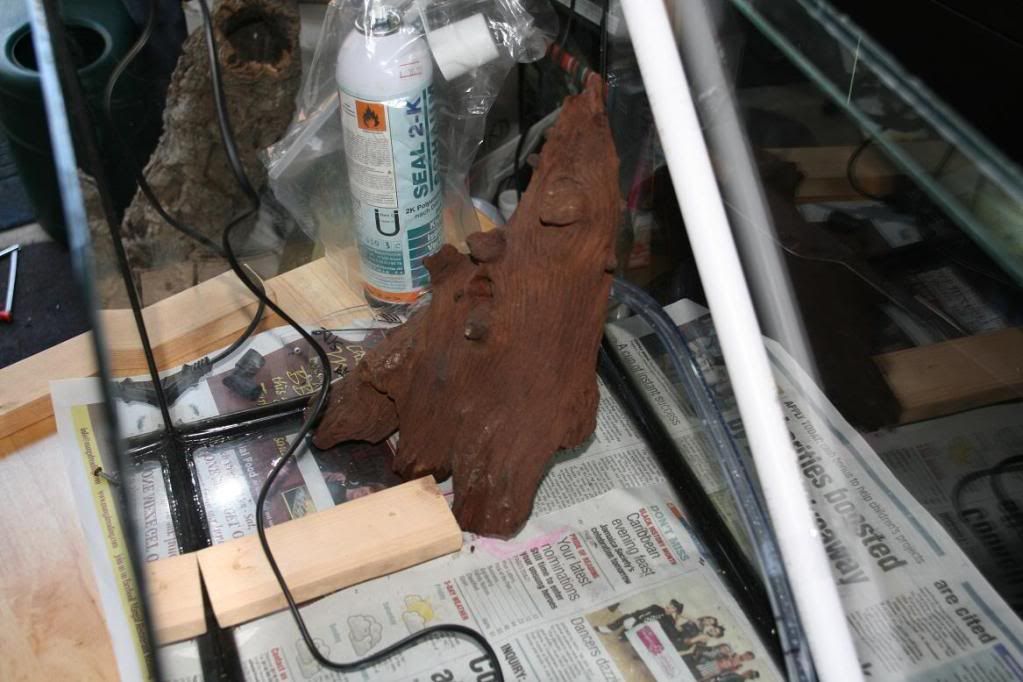 I eventually settled on using expanding foam covered in Elastopur with a ecoearth and Xaxim granules mix. I used masking tape all over the place for the Elastopur work (over wood and glass which you actually want to remain clean!)
A few lessons learnt:
1) Elastopur is a lot denser than I thought..Get yourselves proper latex gloves and a solid stirring spoon to mix it all in. The plastic stirrer and paint brush were useless!
2) If you're going to use Elastopur, don't bother with the fine work on the background carving!! What a waste of time that was..
3) do NOT put in the Leca balls when doing this work..with hindsight, that was a stupid idea. I was just trying to figure out the depths, look etc, but as such a pain getting bits of foam out of the Leca...
Used some 2 component foam foam from Dartfrog.co.uk and some Polyfilla (polyurethane foam brand here in the UK) stuff too.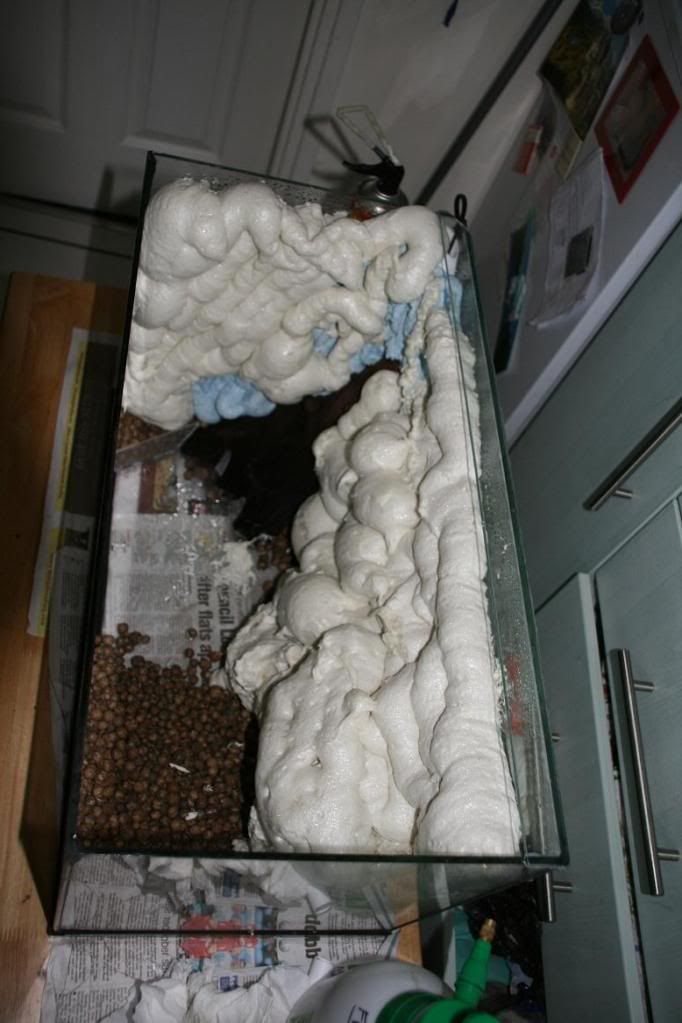 Decided where to put the wood pieces and stone shelf. Oh, the "press it into the foam as it's drying" bit did NOT wrk for me at all! Next time, SILICONE IT IN PLACE FIRST!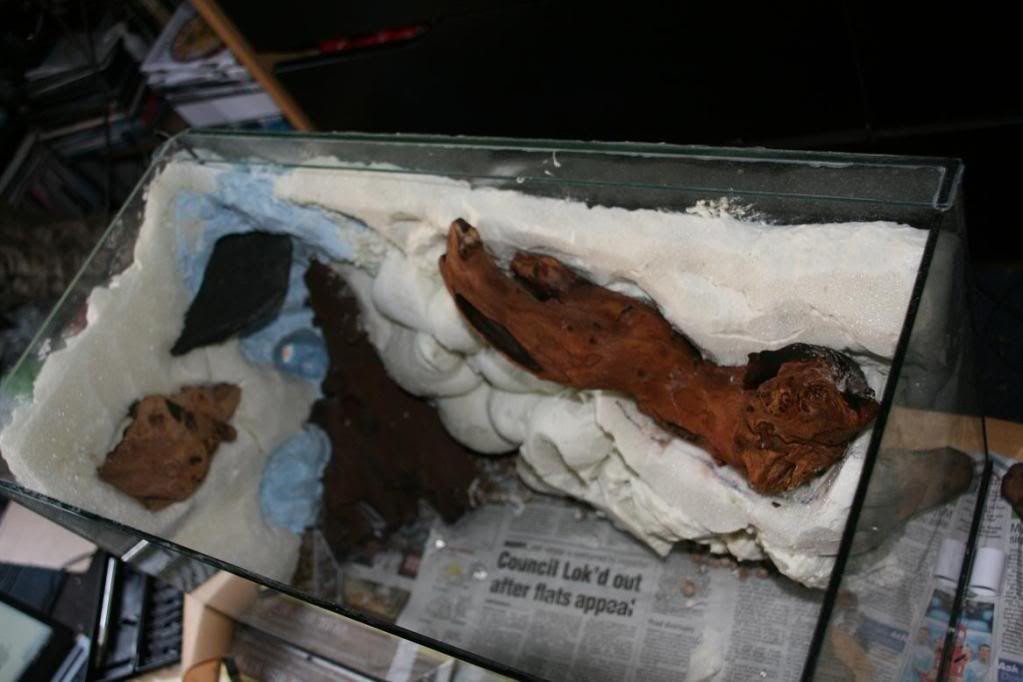 As I say, I sort of enjoyed the carving, but because I didn't now how dense the mix would end up, I did a fair bit of fine tuning on the carving..will not bother again, though I guess other coverings which end up thinner would benefit from finer work. Had to make the best of how the foam ended up to form "shelves" etc. (not used it before so didn't know how to think far enough ahead, though I thought muddy shelves would look OK..)
Next the Elastopur which I have just "finished" today! I will need to do some fine work around the wood parts when they go in finally, but I might silicone in those and use a bit of silicone with substrate pushed in to cover any left over white!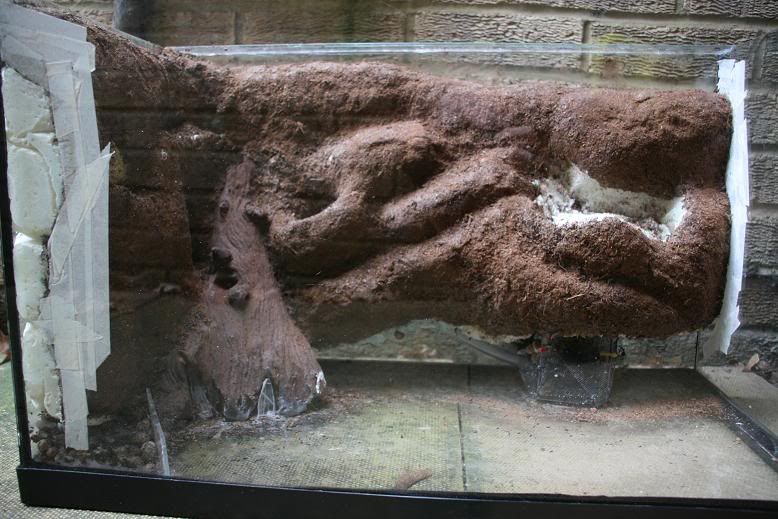 So..will give it about 48hrs then will try and fit in the wood and stone shelf. the just 2 weeks to stand (sigh... )
After that, Leca going back in (now that it's actually needed), substrate, leaf litter and plants.
As to what's going in, not sure if to move over the D. tinc Patricia or the black&blue D. auratus yet.
Enjoy and do make any comments which will be gratefully taken on board!!