Discussion Starter
·
#1
·
I did some rescaping in the Azureus tank today to replace my asparagus fern. It started dropping needles a while ago, an din the last few days was looking really sad. I pulled it from the viv and stuck it in a pot.
My daughter and I found a mini african violet today at a local nursery, so after cleaning it it went into the spot the asparagus ferns were.
I have ordered some broms (4) that should be here in a few days (Thanks JP!) and wanted some opinions on where I should go with them! The mint viv I planned on leaving "bromless", but I'm not sure if I should add more broms to the empty tank. I'm hoping to some day get Vanzolini's for it.
Does the 55 look like it could use more broms in it?
Anyhow, here are the pics! Let me know where you think broms would look good- I'm horrible with them!
55 gallon- housing 3 d. azureus, currently has 4 broms, 2 cocohuts:
29 tall- housing 3 d. leucomelas, has 2 broms, 1 cocohut:
29tall- housing 3 mint terribilis froglets, no broms:
20L vert- housing 2 nominant imitators- 2 broms and 4 film canisters: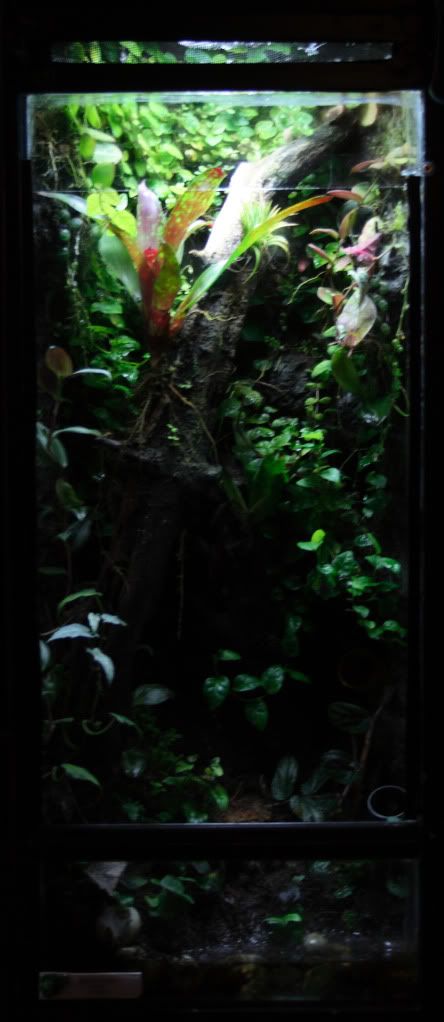 20L vert- no frogs, 1 tiger brom, 3 film cans: