Discussion Starter
·
#1
·
I got my first two frogs in May, 2010. It was two Lorenzos. I tried like mad to breed them and they tried like mad too, lol. Eventually, the three of us figured out that they were both males.
So, I traded one of them for a female, sometime last winter or spring. Can't recall. This time, the breeding worked out a little better. They were laying at least one clutch per week. However, none of the eggs hatched to tads. They would melt or explode. Sometimes the melty or explody stuff would turn a beautiful shade of violet.
Anyway, been trying all sorts of things to help get it right. Fattened them up, put them on a diet, made it wet, made it dry, heat up, heat down... blah blah. I've added Repashy Vit A to their supplement rotation, at less than once per week, and, I've tried some other secret tips, shhhh.
The last thing I did was to make them warmer. Previously, they were kept around 70-72. With this last clutch, I hung a heat lamp near by to raise the temps. Now they are around 74-76.
I don't know if any of the things I did helped, or, if they are doing it on their own, but, I might have my first viable clutch!
Now, before people start PMing me about froglets (you know who you are
), the first viable froglets belong to Julio, since the baby-momma came from him. So, send your PMs to Julio (hahah just kidding).
Ok, the point of this thread is to track the progress of my clutch. If this clutch doesn't make it, I've got another one, recently pulled.
I am very open to any suggestions to help me along the way.
Picture of the parents
Video of the parents courting some time back
Pics of clutch
With flash
Without flash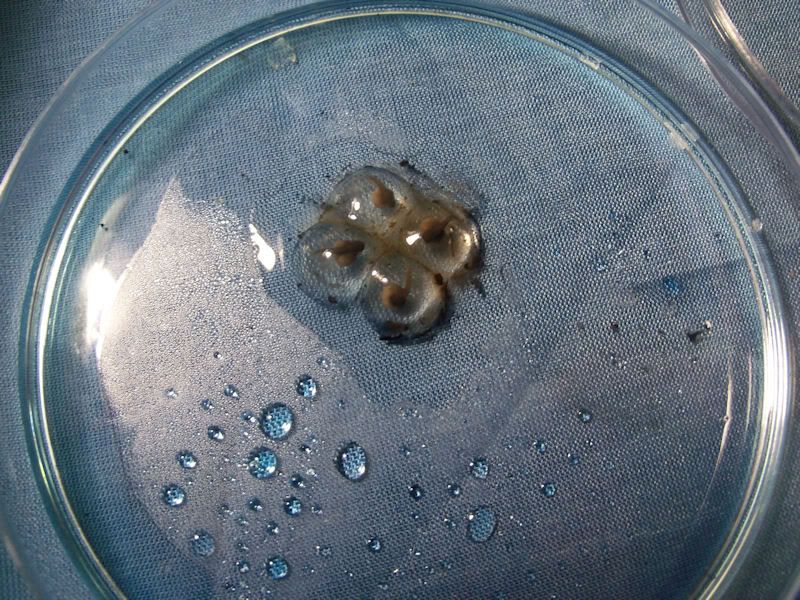 Really bad, but, mercifully short, video of wiggling around in the eggs