Discussion Starter
·
#1
·
So, this is a continuation of my previous post which can be found here:
http://www.dendroboard.com/forum/breeding-eggs-tadpoles/67799-eggs-ahoy-2.html
I am conducting a bit of personal research here regarding the methods for raising tadpoles and i thought i might share it.
I have been reading up on the discussions on raising tadpoles individually in cups (this seems to be most common), and raising them communally in a larger volume of water.
I did not come to a definitive answer so i figured i might as well try to discover for myself what works best for me.
So, what i have is 4 D. Leucomelas tadpoles which have just hatched, the initial batch was 8 eggs, but unfortunately 4 perished during their development.
2 of them have been set up in the traditional individual cup setup while the other two have been set up in a communal tank which i have been running for about a month now. The tank is swampy, filled with plants and moss and also has some cherry shrimp and some snails living in it.
Here are some pictures of the two setups: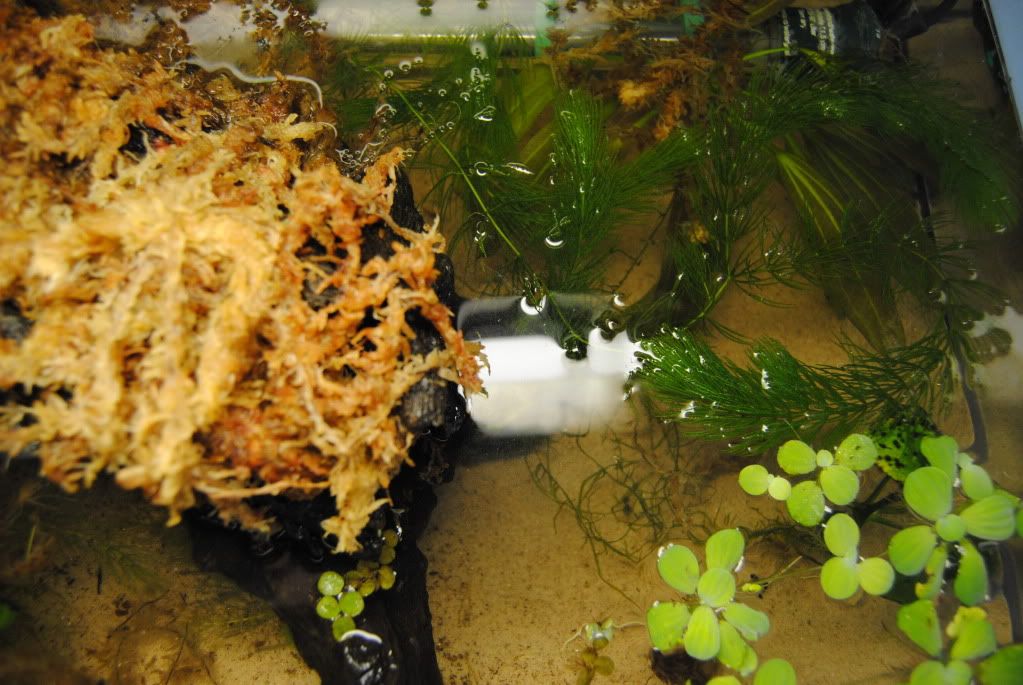 I have speculated that newly hatched shrimplets could be a good food item for tadpoles, but i have no evidence of this and probably wont get any since they are barely visible to the human eye.
The tadpoles are kept at the exact same water temperature (75), so i can dismiss this as being the reason for differing development rates.
All tadpoles will be fed the same food items, although of course the communal tads have more food available through algae, detritus and so on in the tank.
I will be monitoring the development, taking notes and photographs which i will post here.
Additionally, i will be adding more tadpoles to the experiment as they hatch out (currently there are close to 50 eggs under development), so i can get a more accurate result.
Also, i will be raising some of the tadpoles in "dirty" cups, where i will not be doing water changes. This is an attempt to discover whether the determining factor in the growth rate is actually the water and not the additional space.
I know this will not be anything definitive or even new, but it will determine how i will be raising tadpoles in the future. And who knows, perhaps it may prove to be useful information to some
Regards,
Bjorn