Discussion Starter
·
#1
·
I was messing around the other day and thought I would make a video on how to drill glass. Nothing fancy and it is really easy. I have drilled over 30 holes this way.
How do you know if your tank has tempered glass?
Every tank is different. Call the manufacturer to be sure the tank is NOT tempered. Back in the day, All Glass used to use whatever was lying around. Now days Aqueon uses tempered glass for all "kits" they sell at Walmart and Petco. Must be a liability thing.
All Glass/Aqueon contact info.
Aqueon About Us Contact Us
Marineland contact info. I beleive they made perfecto tanks.
Contact Us
Here is a little more in depth information regarding drilling glass.
For Drilling Glass, Stone, Marble and Porcelain
Diamond Plated Core Drill Bits will work the best when used with proper lubrication and a true running machine. Diamond drill life, cutting rate and finish do vary, depending on the equipment condition, speed (RPM), concentrically of the chuck, user feed rate, and type of glass being used.
Diamond Plated Core Drill Bits will fit into any regular manual drill or a drill press running at 500 to 2000 RPM. The higher the RPM, the more efficient the drill bit will be, and bit life may increase. Recommended Operating Speeds (to be used as a guideline):
1/8" to 1/2" Diameter 1,600 - 2,000 RPM
5/8" to 1" Diameter 1,400 - 1,600 RPM
1-1/8" to 2" Diameter 1,100 - 1,400 RPM
2-1/8" to 3" Diameter 900 - 1,100 RPM
3-1/4" to 4" Diameter 700 - 900 RPM
4-1/2" Diameter and Larger 500 - 700 RPM
Place a Suction Base Retaining Drilling Ring around area to be drilled. You can also use the lip of the aquarium itself, form playdough to make a dam or just use a constant stream of water.
NEVER run a diamond drill dry.
How to keep a straight hole.
Be sure the drill is running concentric and the machine's chuck has no wobble.
You can always use a guide, but then you cannot use the suction base ring, because it will not fit under the guide. I have also used a peice of plywood with a hole slightly larger than the bit as a guide. Remember to prop it up to allow water/coolant under the wood and in and around the bit.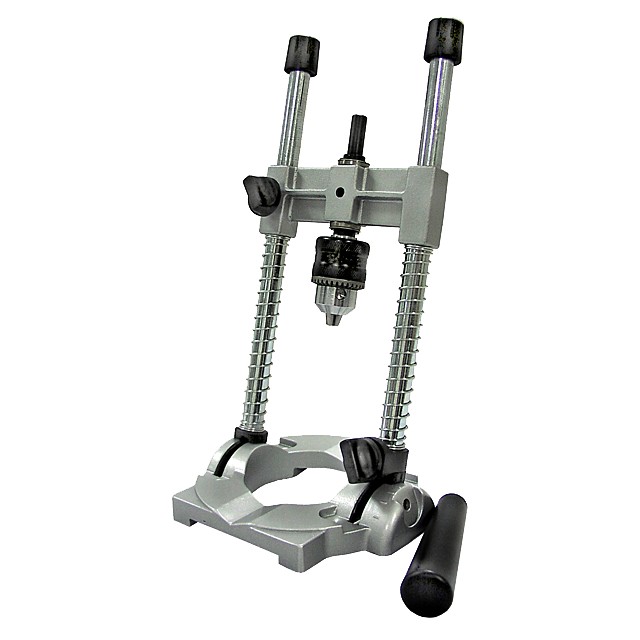 Remove the springs if you use this. I find the weight of the drill and a little pressure is perfect to cut through glass.
How to reduce breakout.
It is important to know that, when using a diamond drill, there will always be a certain amount of breakout or flare on the back side of the hole. This is because when the glass becomes so thin that it can no longer support the weight or pressure of the drill, the slug and remaining thin piece of glass will chip out.
Using medium pressure, feed the drill into the glass for five seconds, then back up the bit to allow coolant to flow into the cut. Lower the drill with medium pressure again for five seconds. Keep repeating until you are within 3/32" of being through the glass, then lighten up on the pressure and ease the bit through the last 3/32" of the glass to reduce breakout. Note: a hard surface under the glass (hard board or wood) reduces breakout.
Always be sure, after each hole is drilled, that the glass plug is removed from the drill. Holes are provided in the side or on the top of the cylinder for easy removal. Multiple plugs will sometimes jam inside the drill, and while you are removing them, the drill might be damaged or bent out of round.
Hope that helps!