this was for another forum contest, but seems the site is probably going to be gone, so i thought id share
One of the most responsible things you can do before starting a vivarium is to know what you are going to have
inhabiting it, this will allow the build to be designed around the animal not the other way around.
I planned on having**P. Terribilis (mint morph), being these are terestrial frogs for the most part, i went
with a horizontal build.
Also in planning a viv its important to know what access you are going to have and where your lighting is going to be
mounted. Being i was limited on space with this build going on a night stand**i went with a zoo med 18x18x24 (i
dont like the added seam in the middle of the exo terra that obstucts view and increases fly escape).**
These side door enclosures tend to leak flies like no other no matter which brand.
So ill add a few pictures of how i managed to slow this hemarage of insects.
Lets get started!!!
a quick 5% belach and water wipe down of the empty tank
**
a false bottom is very important to have as this will allow you an air barrier between the substrate and the water
that has leached through from misting.
there are different options to creating this false bottom (FB) but we will use a material called egg crate panels.
we cut the panel top to the size we wanted in the viv.
PLASKOLITE LIGHTING PANEL - LIGHTING PANELS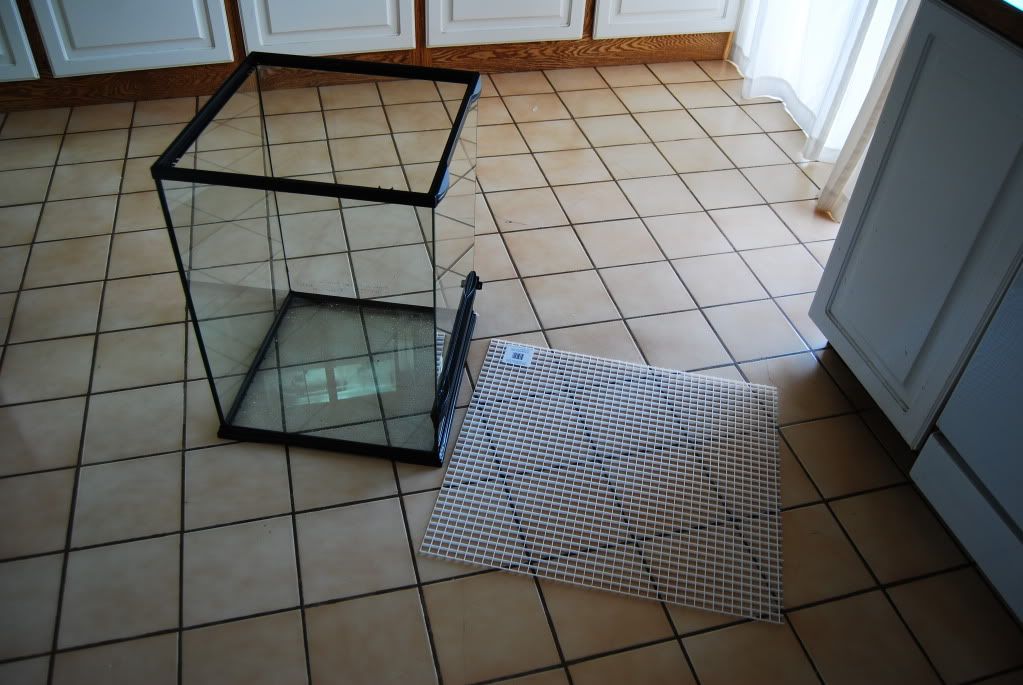 we built it up to a height that worked with the vents in the viv and would give enough water storage in bottom
with out saturating my sub.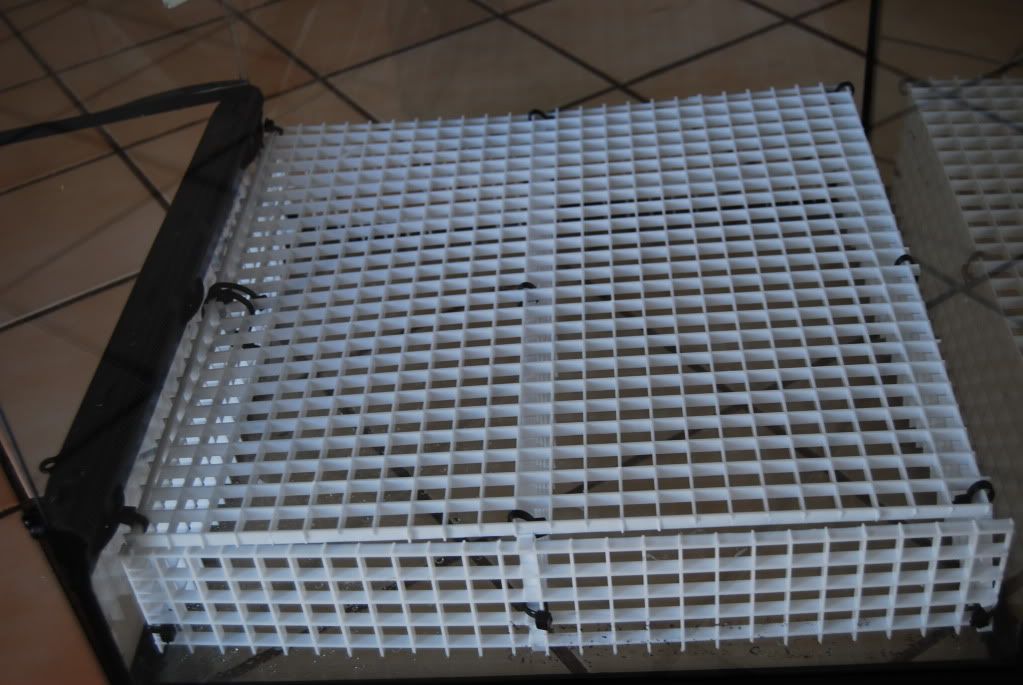 next was to plan the substrate topography. im not a fan of flat subs. and adding hills and elevation changes helps
increase square inch of terrestrial frog habitat as well as give needed visual barriers.
using egg crate we built fillers
installed them and covered with standard fiberglass screen
Shop New York Wire 36" x 84" Charcoal Fiberglass Screen Wire at Lowes.com
productId=3087649&Ntt=fiberglass+screen&pl=1¤tURL=%2Fpl__0__s%3FNtt%3Dfiberglass%2Bscreen&facet
Info=
did some checking to see what itll look like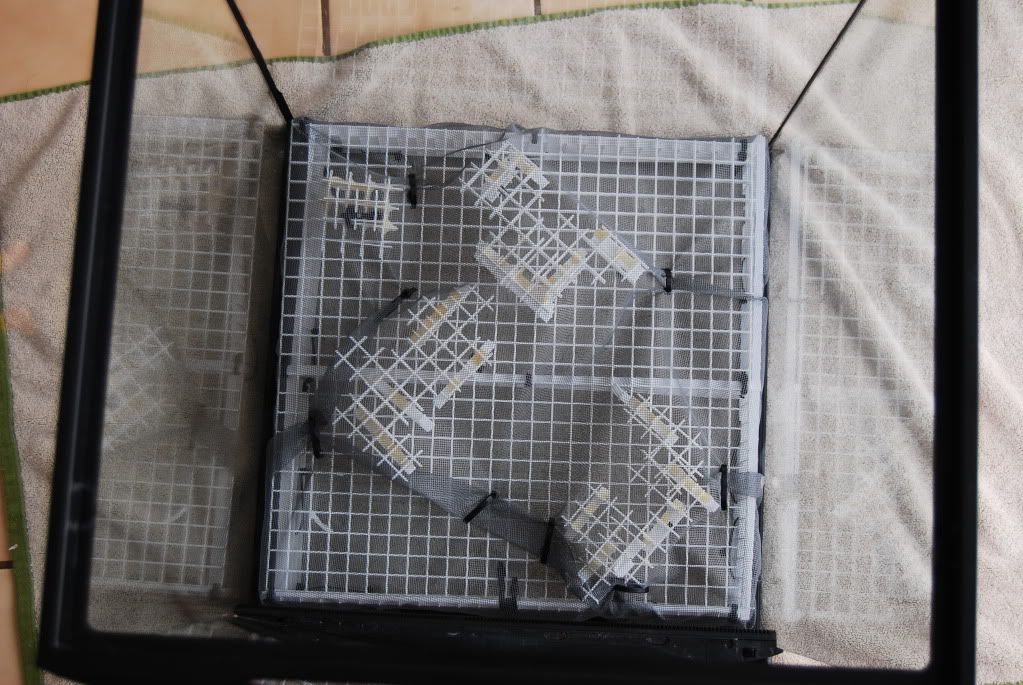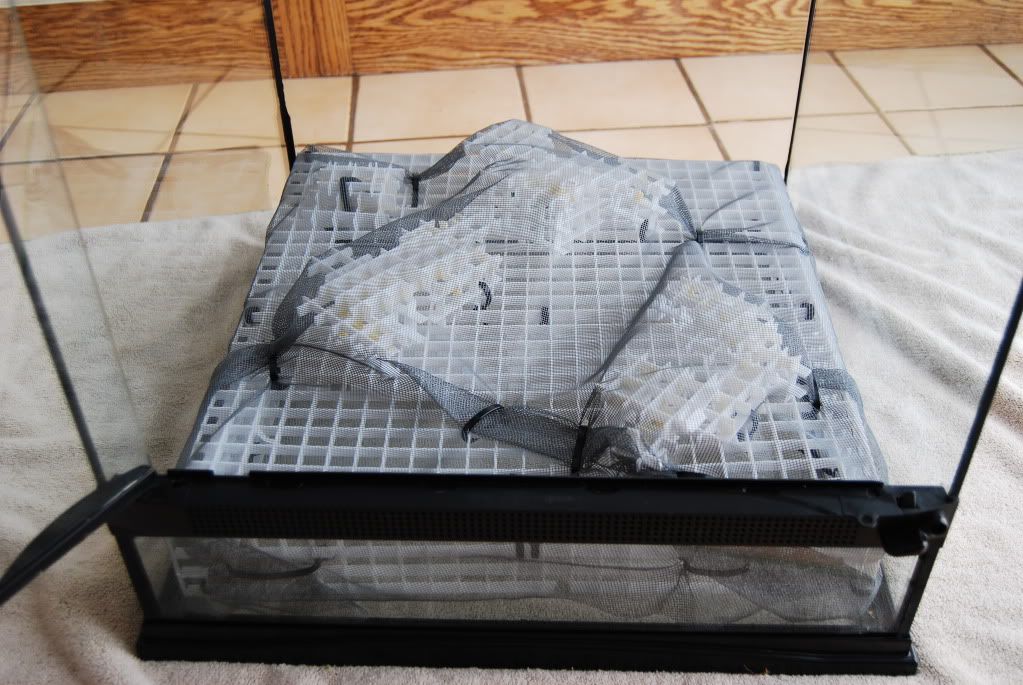 in order to drain the false bottom you will need an access point. there are once again many ways to create and
access point, but in this build we will use a bulk head.
this is were a glass drill bit will be required.
start off at about a 45 degree angle and slowly start drilling. slow speeds are the most effective. reduce pressure to
almost nothing when cutting glass.
here is fairly good info on drilling, their drill bits i found to be really good quality as well
How To Drill Glass
also see below vid of drilling a hole.
after the hole was drilled a bulk head from mistking was installed
MistKing Misting Systems by Jungle Hobbies Ltd
as you can see the next pic is completely out of sequince but it was an important lesson learned on testing water
proofing
WAY
eariler in the build than i did! this was murphy's law at its best, all other vivs ive built were
tested. this was the first one i didnt try.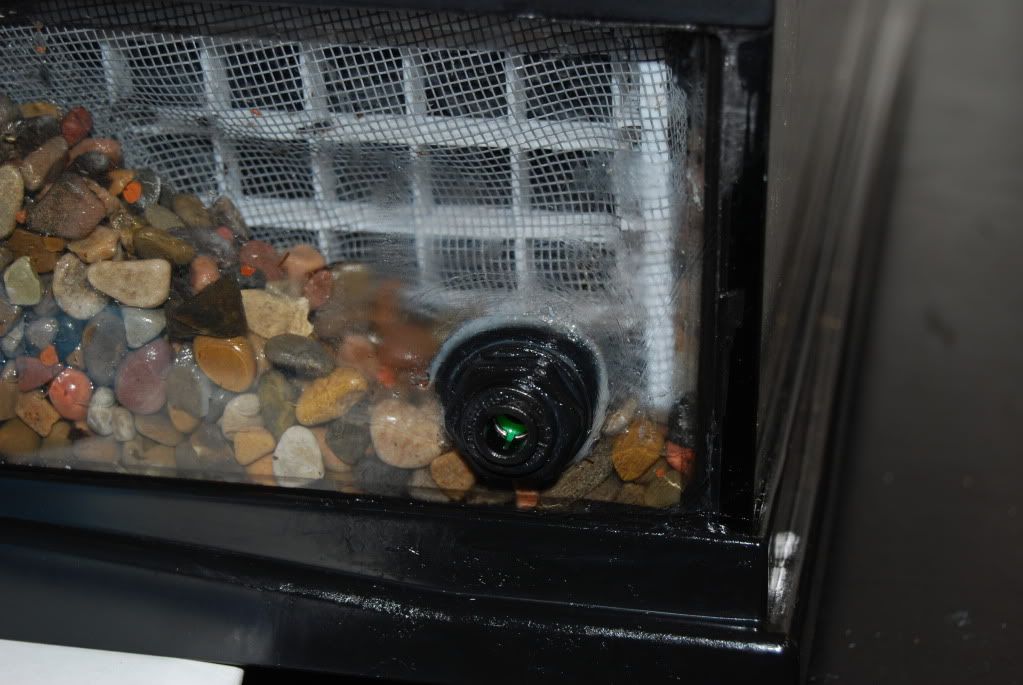 So i will suggest that you fill the viv with a high water level and let sit for 24 hours and see if adjustments are
needed?
next i hate light showing through my back ground so i add contact paper to what ever side i am going to put a back
ground on. some will make the BG really thick so they dont see through,
but that takes away valuable space for the frogs so i try to keep the back ground as thin as possible.
Shop Duck Black 15' x 20" Shelf Liner at Lowes.com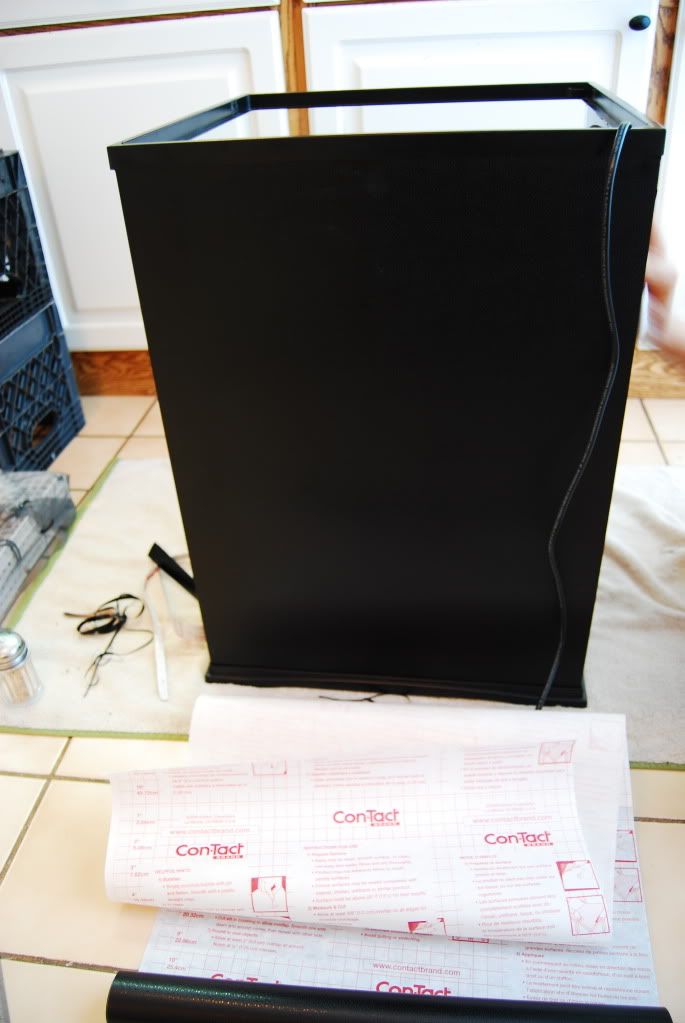 now that this is complete i wanted to work on some back ground accents. A lot of people are looking for a natural
vine to fill the viv. Well here is a close second that with proper watering and planting will look great!
basic ingredients are brown silicone (avoid silicone that has the anti mildew formula), Xylene, rope, and what ever
you want the rope texture to be(i used peat moss).
now it is important to wear protection and read ALL safety warnings! wear a resperator and do this work in a well
ventalated area. this work should not be tempted by a minor, read the label of the Xylene!
We mixed a 50/50 of silicone and xylene
added the rope and mixed to evenly cover the surface. Allow a min for the rope to absorb the mixture.
the nice brown silicone will cover all white of the rope, now drop in to your covering material and cover all wet areas.
try to handle this the least amount as possible to allow the covering material to adhere to the mixture. then lay it
out to dry
While that is drying, now is a good time to start laying the back ground out. there are MANY back ground types
available in the hobby that can be installed, but we will
be using the tried and true great stuff (GS) and caulk back ground (BG). there are tons of GS types and even two
colors out there, go with the cheapest
started off with the tank on its side and started applying the GS.
some people feel that you should put a coat of silicone on the glass before applying the GS, i have never experenced a
GS adhesion fail.*however*it can and does happen so this is your choice.
Shop Dow 12 Oz. Great Stuff Gaps & Cracks Insulating Foam Sealant at Lowes.com
catalogId=10051&productId=3012216&UserSearch=great+stuff&Ntt=great+stuff&N=0&langId=-
1&storeId=10151&rpp=48
i like to apply the GS slowly with small streams and keep the patern minimal. when working with GS no matter how
short it is going to be, be sure and wear clothes that you are willing to mess up.
with out a doubt, GS will
ALWAYS
find its way onto your clothes. i also strongly reccommend wearing latex
gloves. as the only thing the back of the can says for removal is "wear gloves".
while still fresh we want to add a little more texture to the BG so we used cork pieces. these were soaked in a 5%
bleach solution and then baked at 250 until dry. also please do me a favor and make the grain of the coark go
vertical or there abouts (maybe this is just my pet peeve but i hate to
see the grain just pointing in all different direcitions, it just looks unnatural)
while your cork is set, you may want to shoot a little gs into the voids to prevent the frogs from finding hiding spots
behind the cork. this is up to you.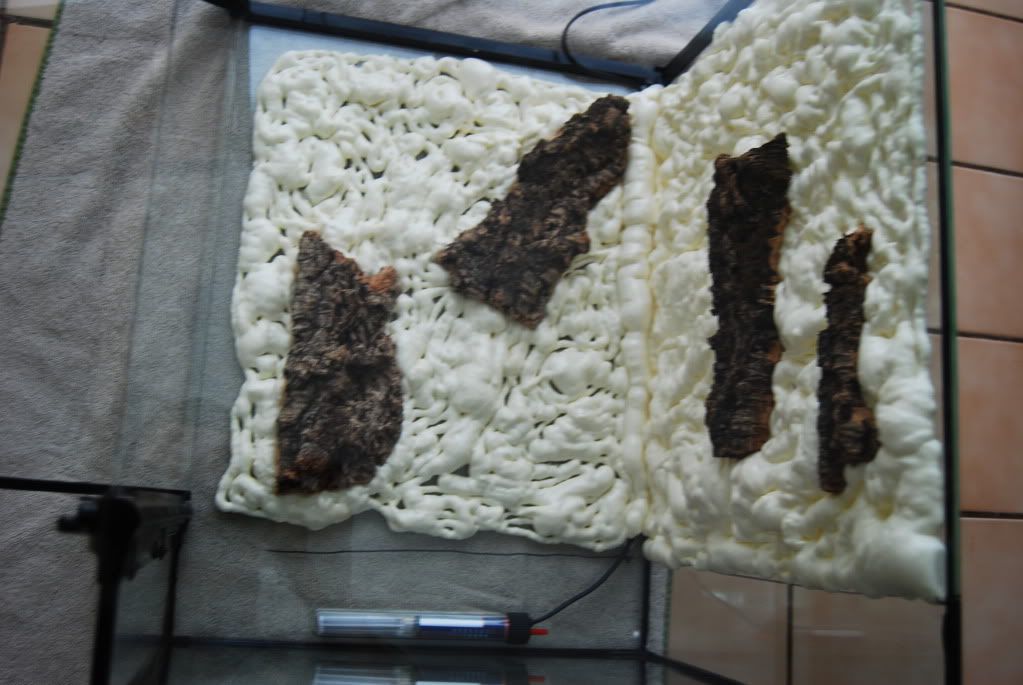 after allowing the GS to cure for two days heavly sand the GS as it is very smooth, then apply the same silicone and
Xylene mixture to the sanded GS.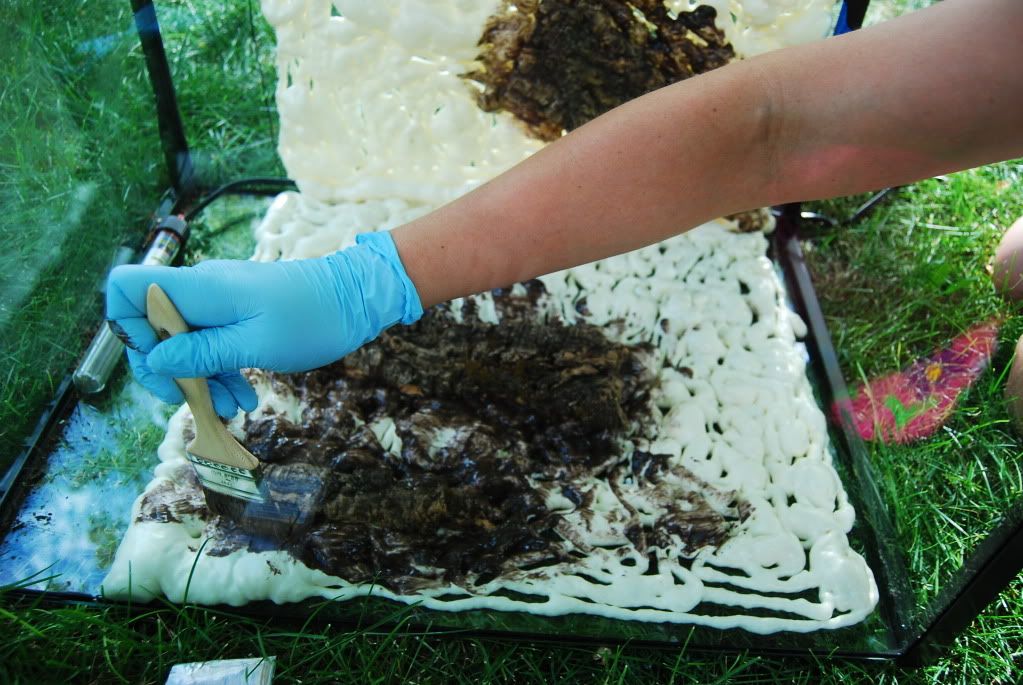 while still fresh throw on extra heavy amounts of your BG material on the wet cork. With more than is need on
there, lightly push the
material down to insure proper adhesion to the BG.