Discussion Starter
·
#1
·
This is my guide to a foolproof, thriving dwarf white woodlice culture.
Background
This guide is intended for the feeders sold as dwarf white tropical woodlice, which I believe are actually
Trichorhina tomentosa
. I believe I read that
Trichorhina tomentosa
was first identified in the late 1800's as a hitchhiker in Germany found among some new world orchids. I believe that these guys are either hermaphroditic or parthenogenic... I don't think that mating is required to make more of them. The eggs are kept moist under their body near their gills and hatch after a few weeks. At 28C, I observed that it took a newly hatched woodlouse about 2.5 months before it produced babies, but it wasn't full grown at the time and I don't think I was feeding it the correct food at the time. It takes them about 2 weeks to have a clutch of eggs.
Methods
I have tried a number of techniques to grow these guys over the last year and a half and have finally settled on one which I think is the most productive. I tried the method on Alan Cann's website (
Woodlice
), but it didn't work too well for me. Here we go...
Make sure that your culture size fits the population size (ie make sure you have enough woodlice so that mold cannot overtake the culture). A small culture can be pretty productive. Unlike tropical springtails, as long as these guys have food and shelter they will continue to reproduce and be productive (tropical springtails secrete a substance which inhibits further production, so populations will eventually quit being productive unless you split them). The easiest way to kill a feeder population is to overfeed it and let mold get the upper hand, so it is better for them to be hungry than over fed.
This technique is easier than setting up a fly culture. It involves growing them on bird bedding and feeding them dogfood. The dogfood will mold over and once it does, they will eat the moldy pellet until there is nothing left. They will also eat the bedding, at which point you know it is ok to split the culture. At the end, all of the bedding has been turned into "dirt".
Here is a culture which has eaten all of the bedding. I fed about half of the population out before I took this picture. The dirt in the bottom usede bedding that took up the whole container before they chewed it all up. It is full of woodlice (they burrow into the dirt).
This is the inside of the old culture. The woodlice are burrowed in the dirt.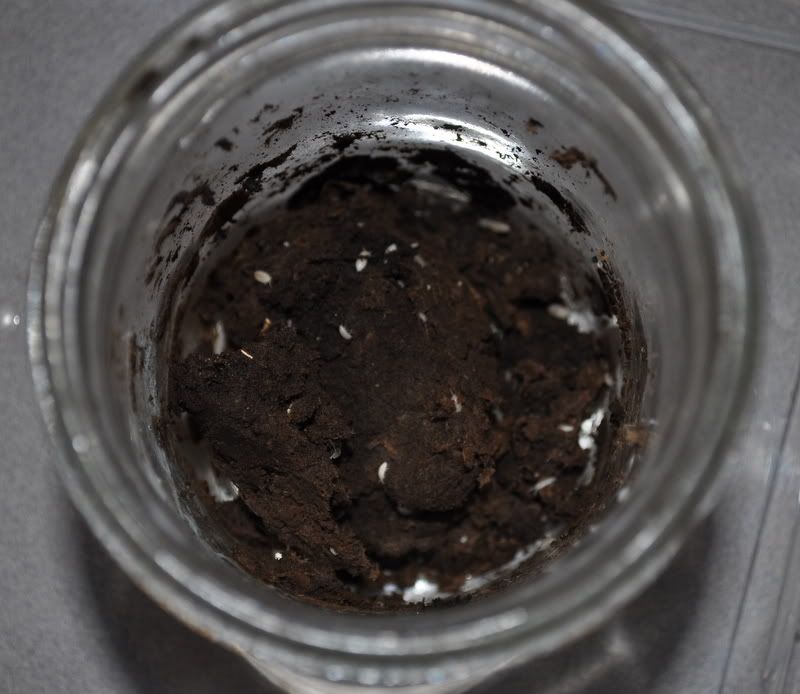 And this is what the jar looks like after I took out the dirt. You can see some woodlice remained in the bottom.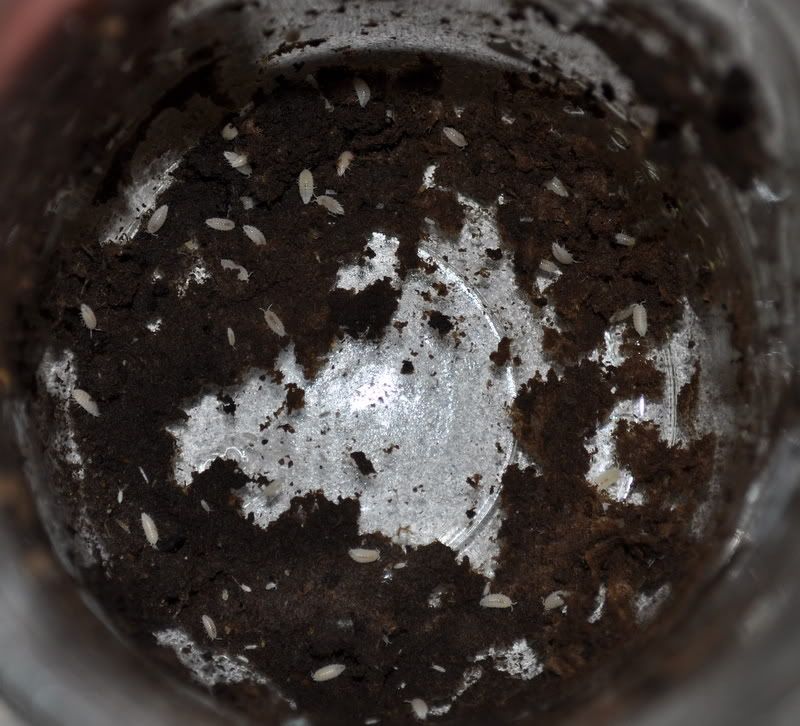 Now that the culture is empty, it is time to add some bedding. I used this product, which appears to be similar to shredded cardboard corrugation. It is sold for birds, but I've also seen it used in display cases before. I tried using cardboard as substrate but they were much less productive on the cardboard.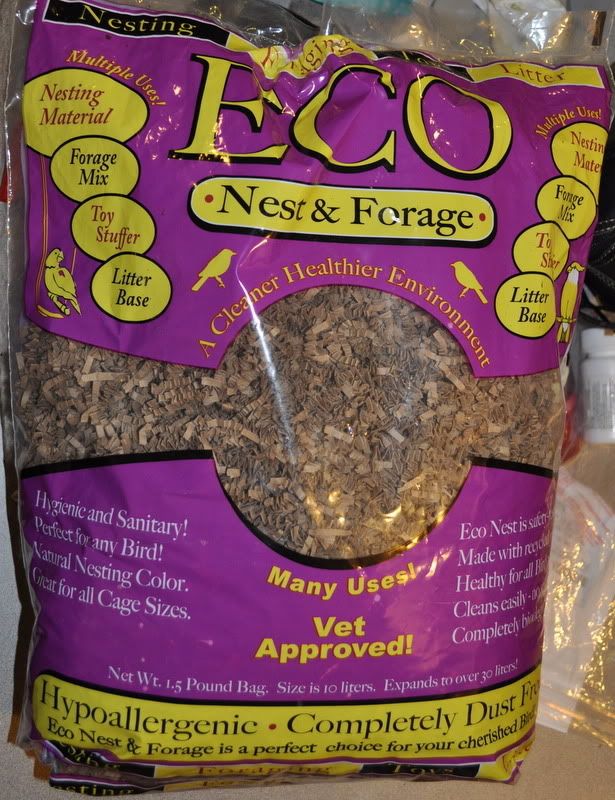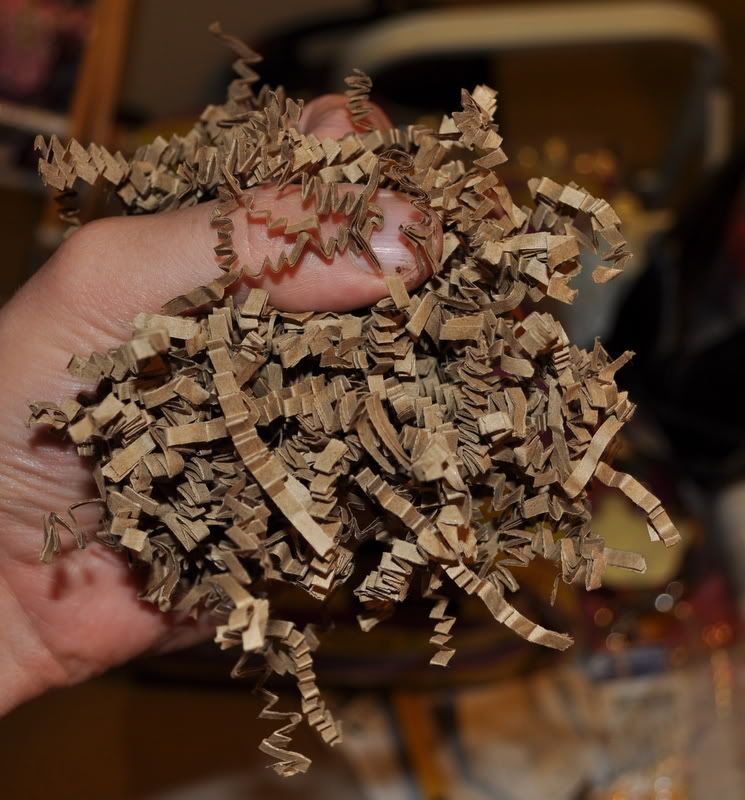 Now add 1 pellet of food. I usually add about a pellet every two weeks, after the old pellet had been completely consumed. I use this organic dogfood, which cost me $3 and has lasted for over a year. I also toss these pellets into my cages to feed the microfauna and give the frogs a place to pick off springtails and isopods.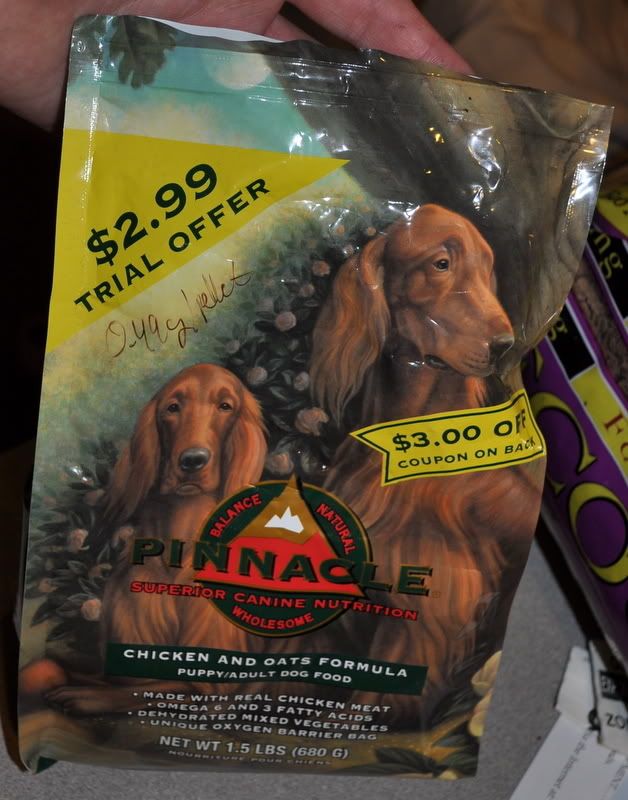 And here is the finished culture. Just add bedding, dogfood, some old culture and spray it a few times. It should not be sopping wet. It looks wet in this picture because it hasn't soaked in yet, but there is dry bedding underneath. The fact that it is pretty well sealed up should keep the humidity near 100%.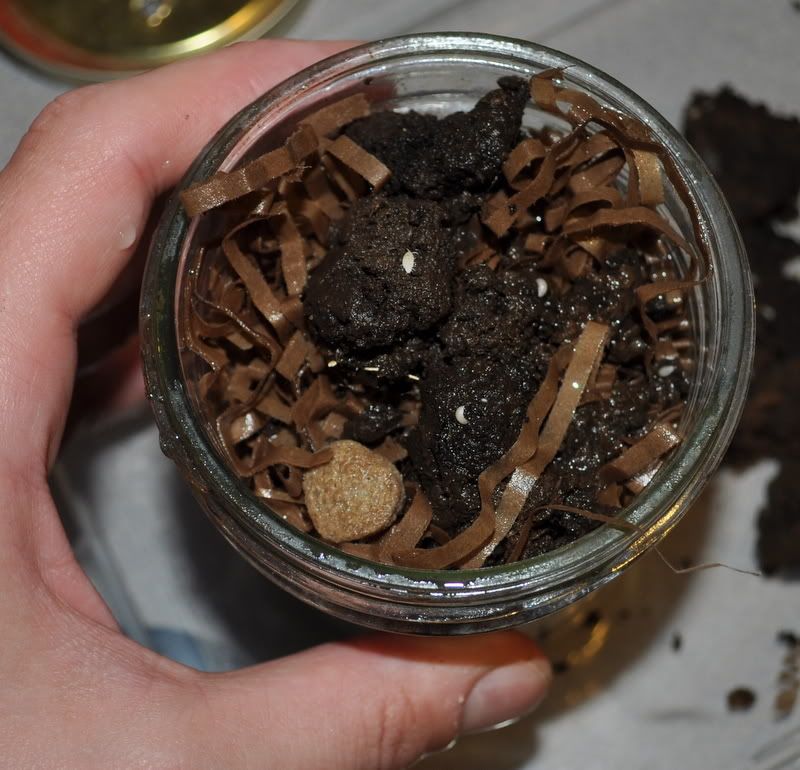 You need a few small holes in the lid or the woodlice will die of anoxia. Very small holes should be sufficient. The pellet will mold over after a day or two, then the woodlice will then chew it all up (unlike springtails which will just eat the mold on the outside) and the pellet will turn into dirt after about a two weeks, at which point you should add another. If you ever notice it drying out, just spray it a few times. I spray it about once every 3 months.
Conclusion
I have tried a number of other substrates (cardboard, coco coir, peat, orchid bark, plaster) but they seem to grow the fastest in this setup. They are still much less prolific than flies, but require less work. I feed them out when a culture is exhausted by either just putting some of the old culture into the viv, or removing the old substrate and banging the empty jar, which has a bunch stuck to the sides.
Good luck and let me know how it works out for you.
-Mark