Discussion Starter
•
#1
•
So June 2009 I went on a trip to Costa Rica, and stayed a majority of my time on the Osa peninsula, which if you dont know is mostly a giant national park. I was walking down the beach at lowtide one day, around the mangroves that block most of the beach and saw what I believe were some massive tillandsia.
They were growing on an
almost
dead mangrove tree that was rotting and had a serious infestation of biting black ants in the center. The plants were about 7 inches tall average, and the leaves spiralled up like someone took the plant and tried to twist the water out of it, and they were growing directly above the salt water. The ants were frantic for these plants, because they held a significant amount of fresh water inbetween the layers(I know cause I poked at one and water poured out, which REALLY made the ants mad). They were all large in size, over 5 inches tall, so I'm assuming that they were pretty old, none had flower spikes.
I have looked all over the internet at all sorts of tillandsia and broms and never seem any like these.
I drew a picture of sort of what it looked like. I'm sure they were not broms, they held some water, but I know they werent. Any Ideas???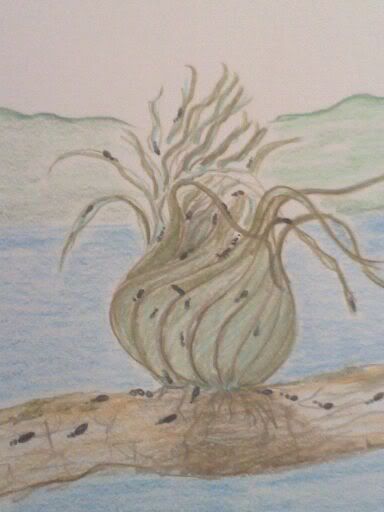 the black things are ants