I got 3 sheets of 30.25 x 48 pieces of 1/4 inch glass from Jeff Rassman of CVB (very very cool guy by the way) and started a slightly odd sized build. I have an old wood night stand cabinet thingy that belonged to my grandma. I figured it would make a nice aquarium stand. The dimensions are 30.25 wide by 17 deep. I wanted something kinda on the tall side and was gonna shoot for 36 tall. With how I wanted to build this viv, there wouldn't have been enough glass had I chosen that height. So, 30.25 wide, 17 deep, 33 tall is what I ended up with.
I cut all the glass myself and I wanted to post some simple things I did to make this happen without the professional tools used by glass shops. Some things someone on a budget could easily pull off. This is by no means a how to as there is already a wonderful how to on building vivs in the parts and construction section.
I started off measuring out and drawing the individual pieces of the viv on each pane of 30.25 x 48 piece of glass to make sure I will utilize each piece efficiently and not have waste. When measuring you must keep in mind overlaps for the seams where the 2 panes come together. Example, I have a 30.25 x 17 base. I cut the back piece at 30.25 x 33, the same length as the base. Now my viv will be side opening instead of front opening, so the front pane is the same as the back pane. The side substrate dams however are cut 1/2 inch shorter (16.5) as they need to be sandwiched between the front and back panes. With creating a front opening viv, you would do the same thing only with your substrate dam in the front vs. the sides.
Now on to some pics.
Here are 2 of the 3 panes of glass.
The glass cutter. Toyo brand. It's about $30 bucks at a good glass shop.
To break the glass after it has been scored with the above glass cutter, I used 2 small blocks of wood which I fashioned an inner curve on one and an outer curve on the other. I used my chop saw to do this. It's not pretty but it worked very well. I don't recommend following my foot steps. I'm stupid.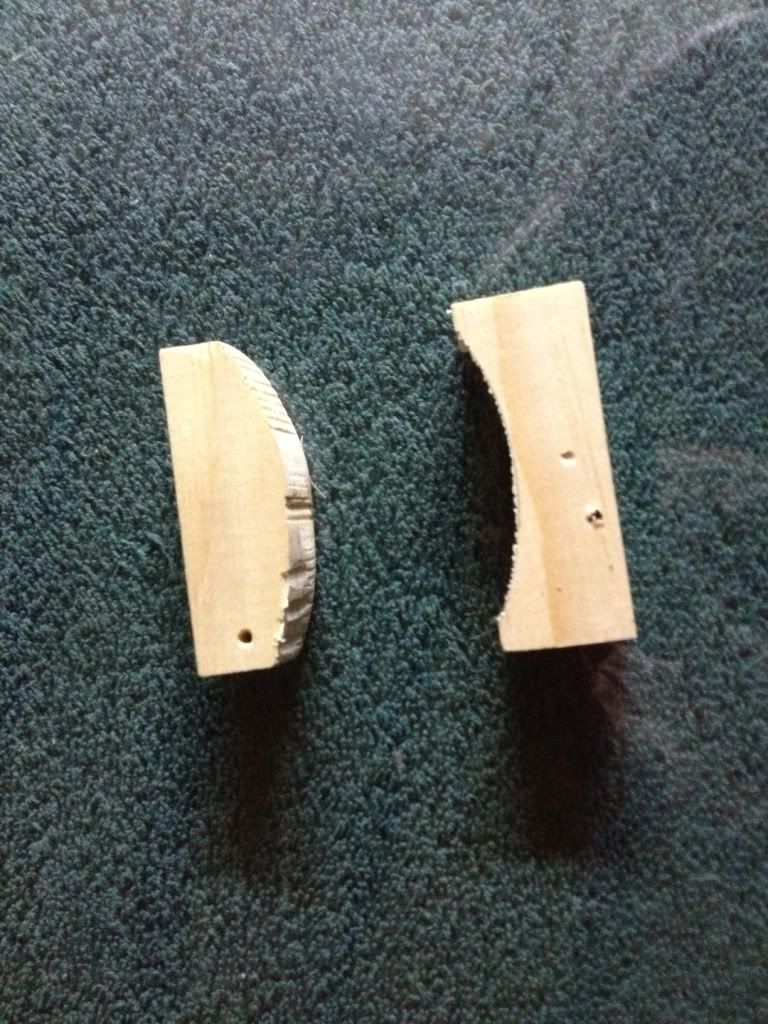 Now I don't have a straight edge or a fancy glass cutters angle, so I use another piece of glass as my straight edge. I mark my piece to be cut, lay a barely damp towel flat on the surface just behind my mark and then lay the "straight edge" piece of glass on top of the towel. The moisture prevents anything from sliding while cutting. Before you start cutting , be sure the cutting wheel lines up with your marks on both ends of the piece to be cut. There is no fixing it once you've made a score mark so be sure it is right the first time.
After you have made your score mark, remove everything from the top of your glass and get your wood blocks ready for action! The piece with the outer curve will go on the bottom. The inner curve goes on the top.
Then take a pair of channel locks and grip onto both blocks sandwiching the glass. Be sure the center of the curves are in line with your score mark. Once lined up, slowly and steadily apply pressure to the channel locks. If done slow enough, you can actually see the glass separating down the score mark before it completely breaks. Pretty cool!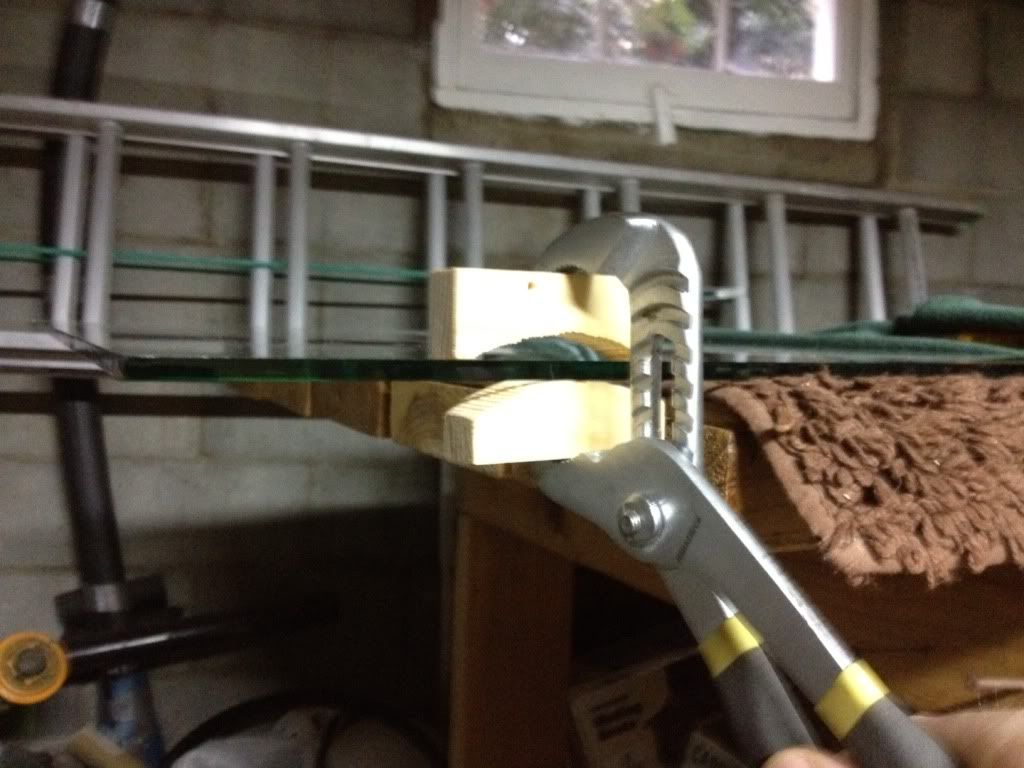 Once your pieces are cut, it's time to sand the edges. A belt sander is a great tool for doing this job, but that means ya gotta have a belt sander
For those of us who don't have a belt sander, a sanding block works great! I don't recommend using an orbital sander as it seems to leave small chips or "scalloping" on the edges. After realizing this, I quickly switched to my hand block sander and the edges turn out very nice.
Be sure to sand the corners to take the edge off.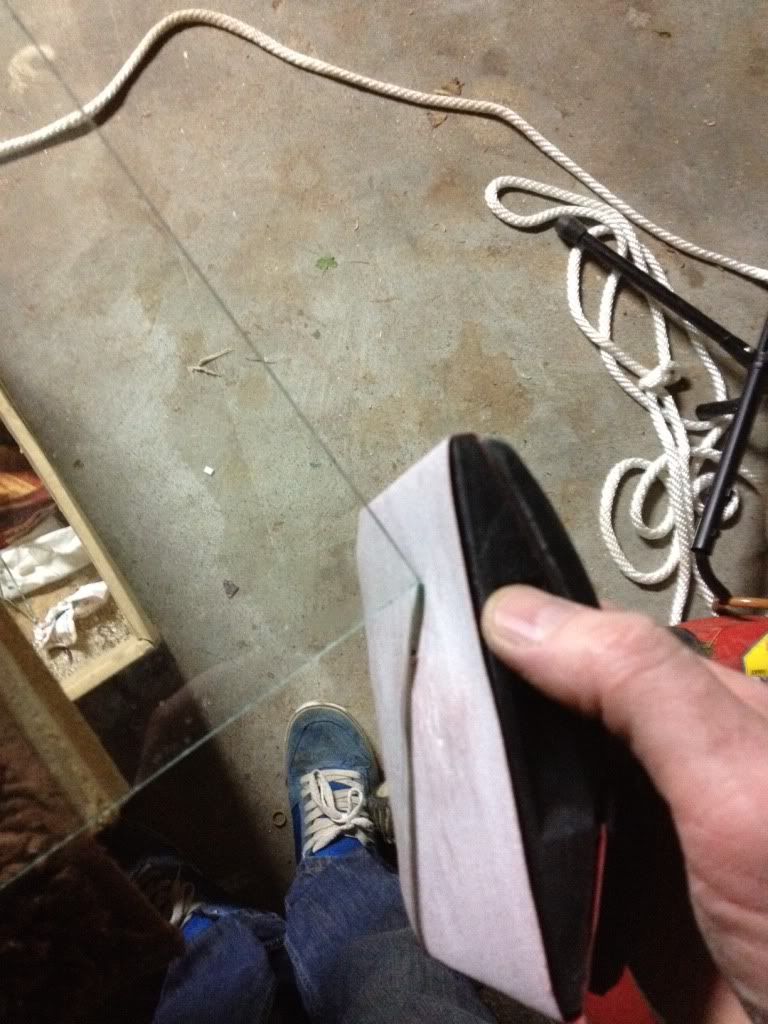 Here's half of the glass cut and ready to go.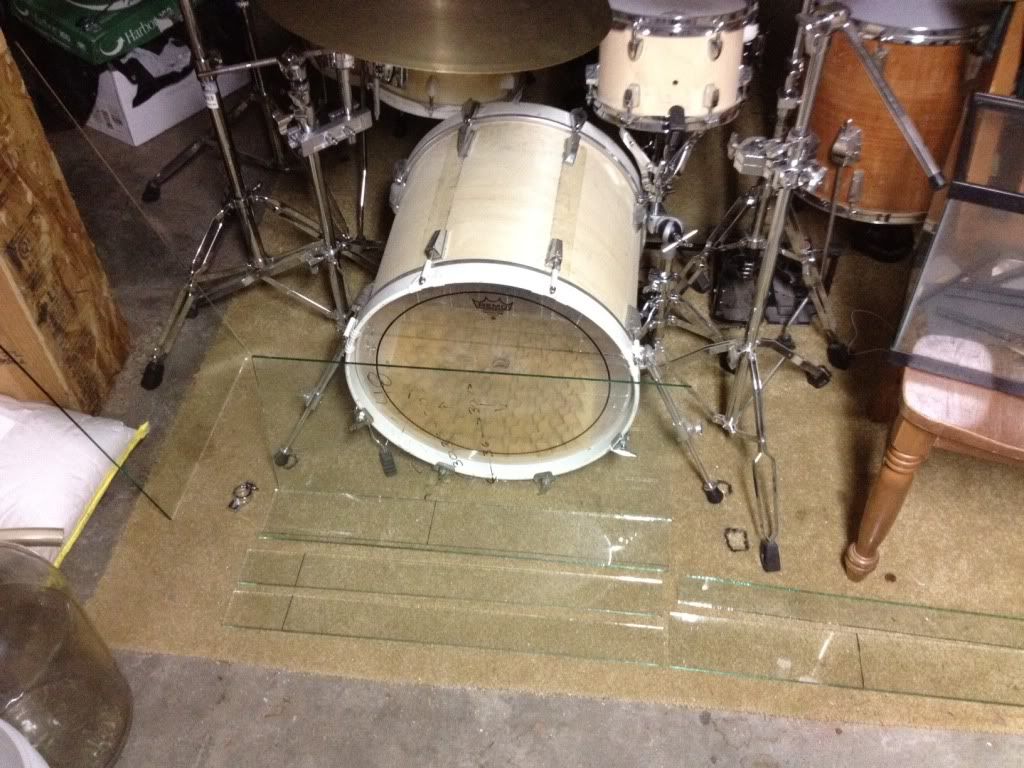 Now that I've gotten that out of he way, I'll post the build next!
Josh