Discussion Starter
·
#1
·
So for those of you that have been answering my questions up till now, thank you. There was a lot of research needed to start this, and I am learning so much every day. I decided to go with a 40 gal breeder tank, only because it was small enough to have at my apartment, but cheap (petco 1 dollar a gallon sale) and large enough to have some fun. I have a few weeks left of break from school and work and plan on finishing everything up to planting.
Let me start by saying that I take no credit for any of the ideas used here. Some are my own but many are imitations or at least similar to many things I have seen here on the forums. I am just sharing everything I did in as much detail as possible because it is my first build and I want everyone to be able to see everything I do.
Here is the tank I started with. Just picked it up at petco last week...
I started by cutting out egg crate for my false bottom. I also put some pieces in the corner for my waterfall. This left enough space to put my pump and be able to access it.
I created a small area for a "pond" for the waterfall to drain into. The pond will be filled in with great stuff, then painted, and coated with epoxy. There is a drainage pipe that I sealed in place with silicone.
Where the water pump will go for the waterfall i used plexiglass and will seal in that area to keep the water feature completely separate from the rest of the tank
I will finish sealing it when it goes in the tank.
While these things were drying I painted some foam/greatstuff rocks that I started last night, with acrylic paint from AC Moore.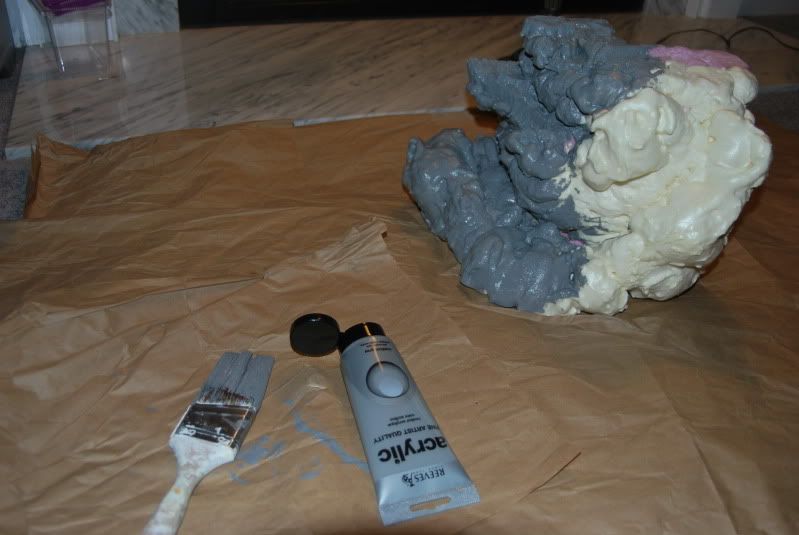 I havent completely figured out how this is going to work yet, but created a removable top where the water will be pumped up to poor down the waterfall. Here you can see that I completely sealed it so water will not go back into the pump area.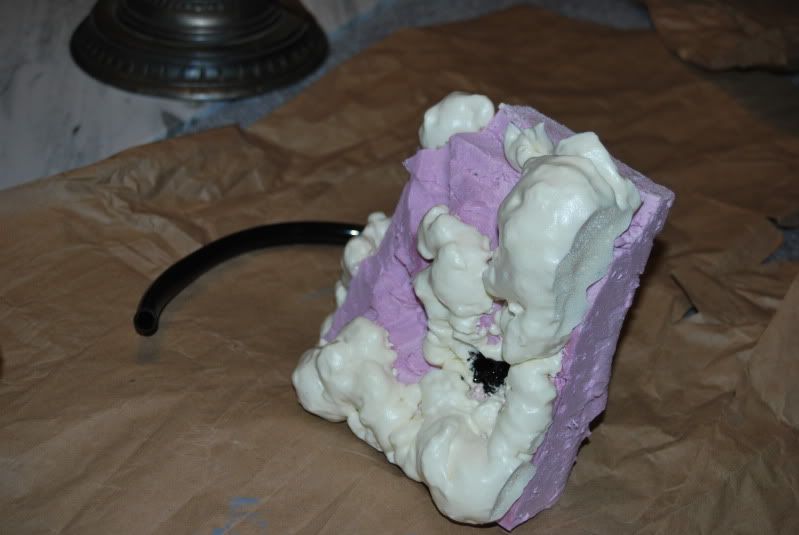 While everything was drying I also prepared some pots to put in the background. I had these laying around so i figured I would try to use them...
If you look at the pot on the left you can see that the plastic is kind of stretched around the pipe. I did this by simply using a 1/2" drill bit and pushing through the plastic. Then i pushed the pipe through it and it was a perfect fit. I sealed this with silicone as well.
I had some wood and rocks to sanitize so I boiled and baked the wood. Since the oven was on I decided to prepare some coco coir as well...
Now I will have it when i need it.
I placed the pvc pipe and tested my setup to make sure all the pieces fit well...still have to workout the background.
I then used two dabs of silicone on each piece of pvc to attach them to the bottom of the tank. This keeps them in place but leaves space for water to drain out. This way no water builds up in the pipes themselves as they are just for support.
Thats all I did for today. Plan on finishing up painting the rocks tomorrow. Then getting screen and starting to assemble everything in the next couple of days. Let me know what you think! Hope you will watch this build.