Discussion Starter
·
#1
·
Hey all !
So here is my dilemma,
I want to lower the temp on the top of my tank (55 gallon). I have a zoomed HOT5 fixture with 2 non-HO 6500k lights (overall cooler than the HO's) and the top of my tank hits around low 80's, while the bottom is around mid 70's.
Now there is about an inch, inch and 1/2 between the fixture and glass top. Now with the zoomed fixture, it mounts to the lip of the tank and it is as high as I can get it. My first idea is to get a busted tank, take the top molding off and install that on my tank somehow so it can be raised off more. I'm really brain-farting with this one, maybe some other ways to do this? This seems like the better option, but I need it to look clean, as this is in my living room.
Other option, cpu fans. I'm not a electrician, but seems simple enough. I am looking at possibly 2 40mm cpu fans.
This:
Delta 40mm 5VDC Fan AFB0405LD-R00-The Electronic Goldmine
With this power:
12VDC 1200mA Adapter-The Electronic Goldmine
or
Heavy Duty Adapter - 12VDC 800mA-The Electronic Goldmine
But now the issue, where to place them? I was either thinking one on each end blowing over the top...or both in the middle, blowing outward. How long should they stay on?
My tank in question: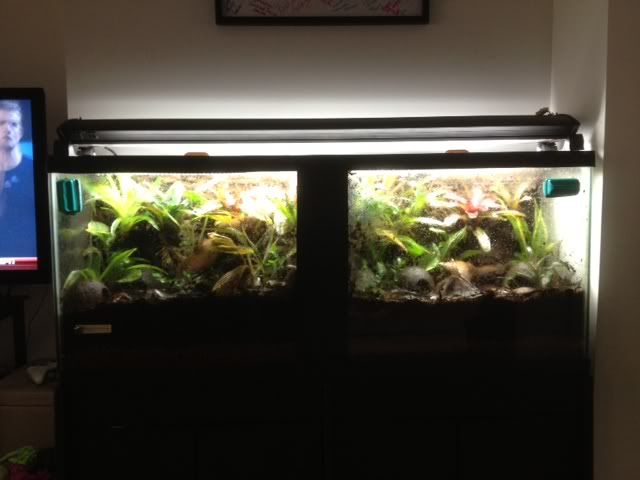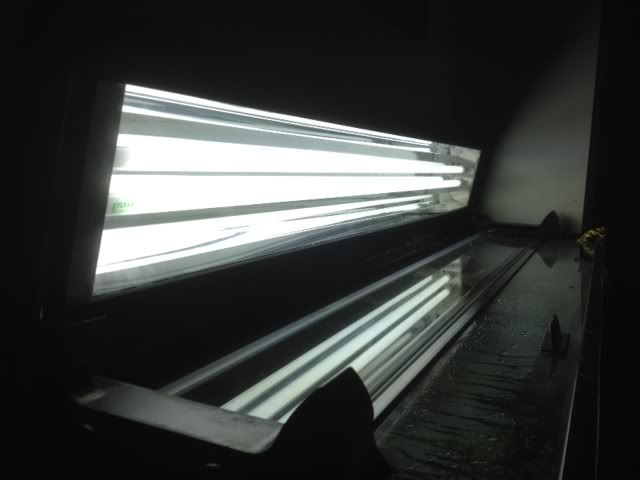 Note: That is not a real frog in the last 2 photos
I've been bouncing ideas around, but I've been lacking my creative abilities lately, so if you have any ideas, please let me know. I just want to be prepared.
I appreciate you looking and reading. Thanks
-Brian