Since the local glass store was giving away 20"x20"x1/8" glass panes, I thought I might as well use them for something.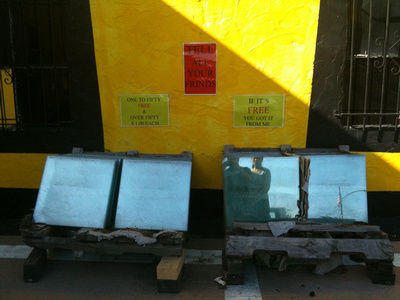 Unfortunately I don't have much space left in the house and I didn't want another ugly wire rack. But I was giving some books to charity this weekend and decided I might as well keep the ikea bookselves and use them for something. So as of today I'm building 14.25"x10.25"x20.25" vivariums. That makes a nice 10 gallon for my thumbnails. I'm going to build one first, and then two more if it works out. Or maybe six total.
I admit I'm bad with glass, but I figured the space on the shelf isn't that big and I can use it as a template, so there isn't that many ways to mess up. I got an L, glass cutter, and a glass seamer, and got to work.
I made two 10x20 for the sides, two 10.125x14.25 for the top and bottom, and a 20x14.25 for the back. I put blue painters tape around the corners of the shelving space, then dropped the bottom glass in. I used clear GE silicone II on the edges, then put the back in. Added more silicone, then put the sides in. Repeated again, then dropped on the top. I finished off with a nice layer inside the tank. I used some shelves to put pressure on the top and one inside the tank to keep the sides from falling inward.
After a couple hours of hardening, I pulled out the tank from the shelf to make sure it could be pulled in and out, then removed the painters tape and placed the shelves properly on their pegs. Now I wanted to test out some lighting. I used three 110mm angel eye LED lights to stick between the tank and the next shelf. I also added a 9.5" waterproof blue LED strip for night lighting. So far they looked good, but I still need to drill holes in the shelving for hidden cables.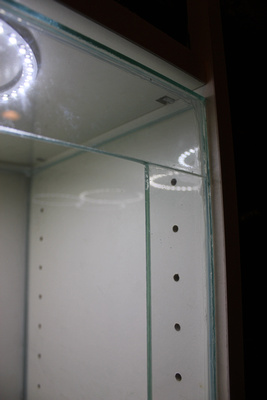 I wanted to give the tank a lip for glass on glass, so I added a 2"x14" on the top and 2"x13" on the sides. These were really hard to keep flat while the silicone dried.
After staring at the tank for a while I decided I wanted hidden vents at the top, and a euro style vent at the front. Since I'm bad with glass and cutting a shape is impossible for me, I'm opting for holes. I also plan for a hinged front. At the moment I just placed a recessed piece of glass at the bottom.
Work on progress. I managed to get a diamond drill bit. But I still need a new drill!
Justin