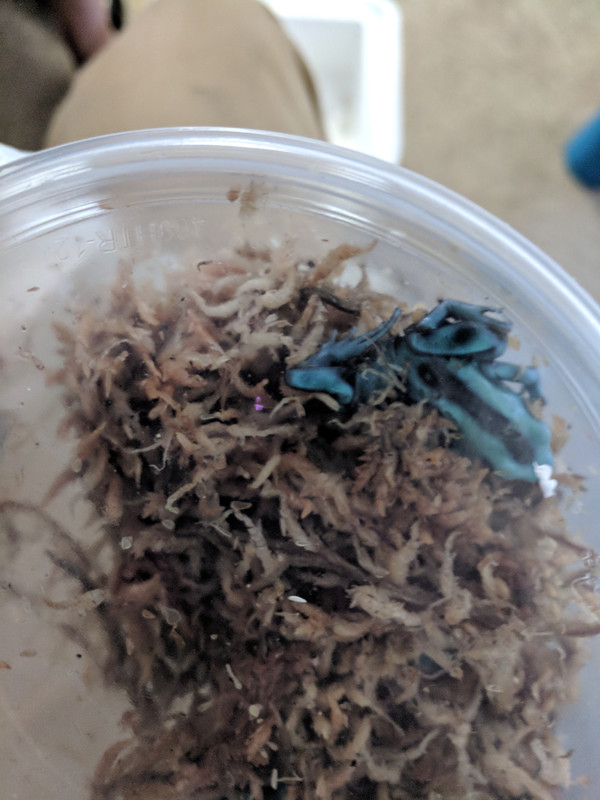 Hey fellow froggers, kind of a frog emergency here. I just got this poor little guy in the mail today and his leg is broken. I've done plenty of reading on the forums about dislocations and such and I and have even looked at a radiograph of a frog to get a sense of their bone structure and I can almost certainly confirm that this little guy has a broken leg. it's right in the middle of the upper right thigh and when he tries to hop it seems normal but if he moves wrong it will twist and fold over on itself. you can see in the picture how he arrived with it all twisted up.
My question is what can I do for him? DO I have to euthanize the frog or is there a chance that it will heal on its own? I moved the frog into a larger Tupperware container with plenty of moss and leaves and have observed him hop around and eat flies so he doesn't seem like he's in too much pain but the leg is still flopping and folding all over the place. I've got calcium and vitamin supplements but I don't have another stable vivarium for him to inhabit.
Is a large Tupperware fine for recovery as long as it's ventilated and moist and stays warm enough?
Should I put him in something smaller to limit the use of the broken limb?
Do I put him out of his misery that he is not hopping around in pain?
Any advice would be great. It has to have happened while shipping I watched the lady at the post office flip the package on it's lid when she was handing it to me and maybe that freaked him out? I have no idea. He came in a Styrofoam container with plenty of packing peanuts and insulation...
Thanks again for any help.
Edit#1 Adding more info as I get home from work. Here is a radiograph that I found on the site and the red circle outlines the bone that is broken and the line is right about where the leg folds. it's the other leg I just used the straightened one for simplicities sake.