Discussion Starter
·
#1
·
I posted this on another forum yesterday, but have since found this forum which looks far more active. There is so much information here to learn, and for that I'm thankful. Unfortunately I need some advice quickly, so I will go ahead and repost this while I go reading other helpful threads.
______________________________________________________________
I am a new PDF owner that bought 4 little froglets two months ago. Until yesterday I though all was well. Then I found my favorite little turquoise and bronze auratus laying dead in the viv.
He was skinnier than I remembered seeing him the day before, but then again he was always smaller than the others and I didn't get good looks as frequently because he was so shy and scurried under cover any time I approached for feeding. I did try to make a point of seeing him eat some flies each day, though.
Right now my previously active tinctorius seems sluggish and i saw him on his back a bit ago. Just a few hours ago he was happily snipping up flies. I set him back upright and he has taken a few steps since. This frog is the next skinniest after the deceased auratus.
I am not very experienced with PDF's but my first inclination is malnutrition. I do two daily feedings of FF's raised on Josh's Frogs medium, but unfortunately haven't been powdering frequently. Now I feel really guilty! I hope I haven't mistreated them! I'll certainly make sure I dust for nearly every meal. Is it essential for me to get some other variety in the diet as well? A local pet store does sell pheonix worms, but they seem awfully big for these frogs.
I took some pictures today and compared with pics from a month ago I think they are all skinnier except for the leuc.
Pics of current frog that isn't doing well: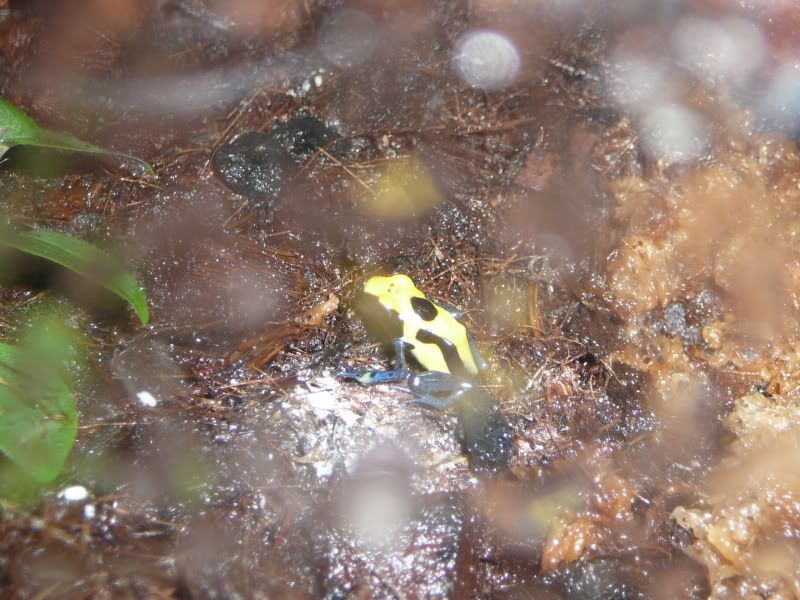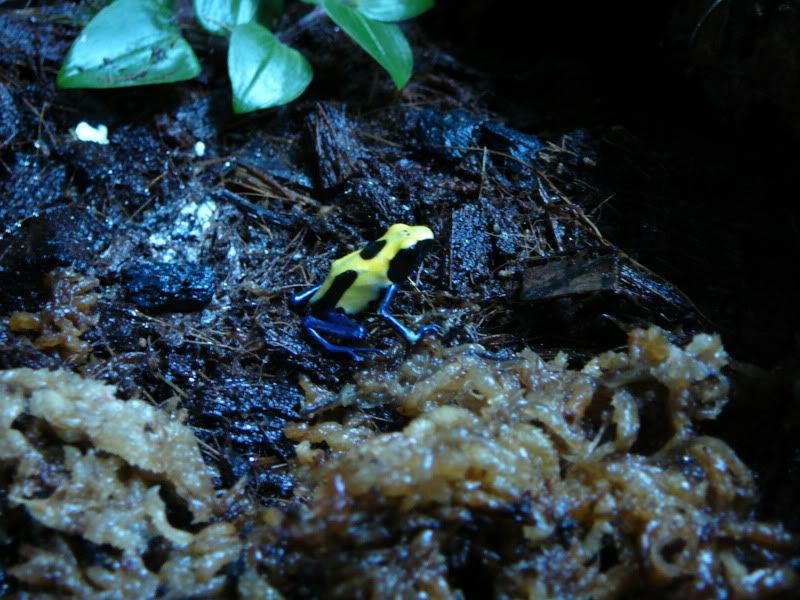 He looks so skinny
Pics of my azurues: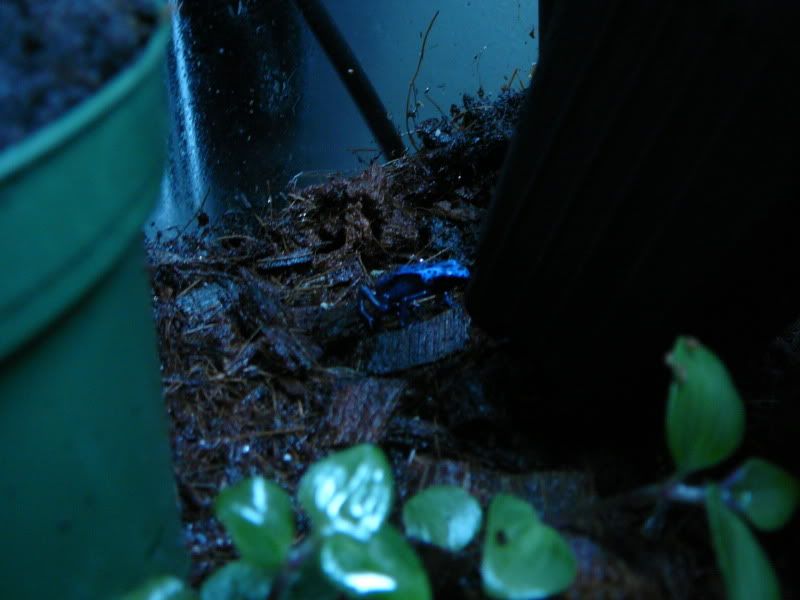 I think this one is looking a little thinner too.
Pic of my fat, happy, bold leucomelas: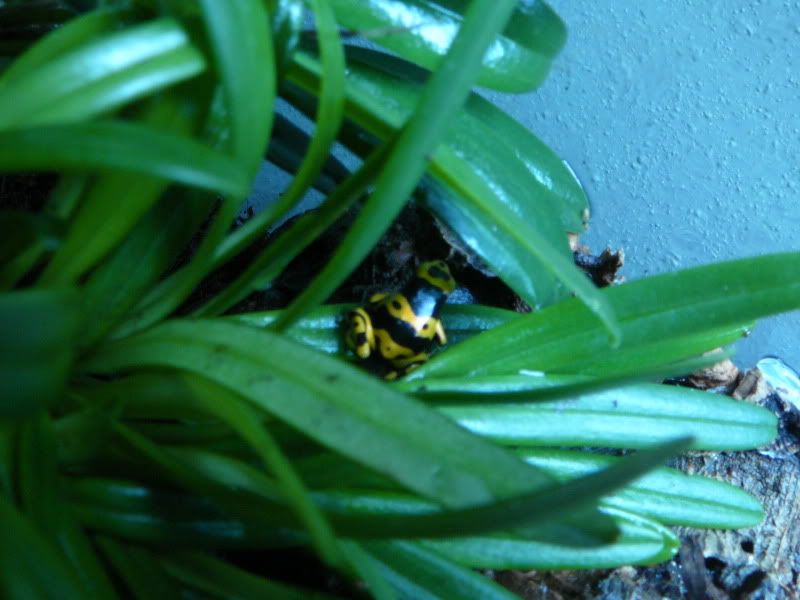 Pic of the deceased turquois and bronze auratus from last month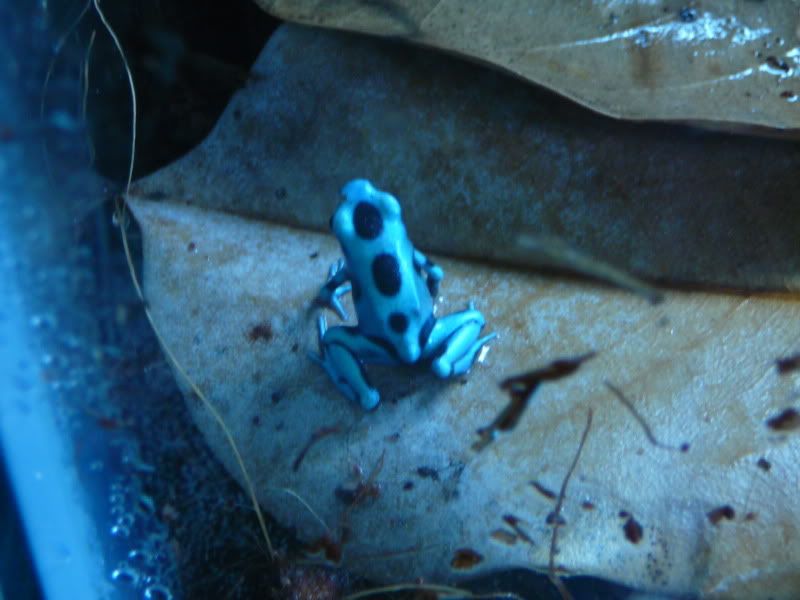 Pic of the current set up:
This is a 29 gallon with a little over half above water currently (I didn't intend to have such a large pond area, but I haven't yet started the big viv project with moving water structures, better drainage, etc). Substrate is coconut fiber that I'm disappointed with because it stains the water. Will probably move to sphagnum soon. Humidity is kept high with a Mist King system. Room temp stays around 75. I've got two small orchids in the back left, a cork bark structure, a wandering jew, and begonia, and one bromeliad. No leaf litter right now but they seem to spend most of their time under living foliage so I figured that's OK.
I've convinced myself that I've just been a bad owner and not paid close enough attention to their nutrition, having gotten spoiled with hardy lizards over the past few years. Do these pictures and info help any of you more experienced frog owners confirm that, and maybe give me a word of advice?
Thank you.
_________________________________________________________
That was 24 hours ago. Today's update is that the tinc is still alive but having trouble feeding. He is trying to snip up dusted flies, but his aim is terrible and so far I don't think he's managed to catch a single one.