Introducing our
New High Visibility Conversion Kit!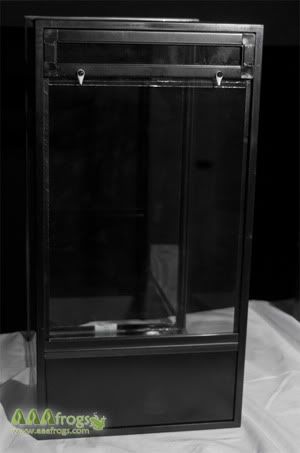 AAAfrogs.com
is proud to introduce our new 20gal vertical conversion kit. This 20 gallon vertical conversion kit is designed for your standard 20h aquarium.
Features a small 1" vent, a large 15" high visibility door
, and already blacked out bottom piece to hide your false bottom or drainage layers.
To complement our new conversion kits we will be releasing a set of
High Definition Videos on Vivarium Construction
this week! These step by step videos take you through the process of constructing, laying out and finishing a vivarium. The perfect reference guide for the beginner or a a great example of the process we go through at
AAAfrogs.com
for the more advanced keeper. These videos will be on our youtube channel as well as on a thread here on dendroboard.
Our
January Substrate Discount
is still running strong, make sure you are ready to fill any new tanks with 20% off Leaf Litter and Tropical Soil Mix products at
AAAfrogs.com
. Use coupon code "
SUBSTRATE
" to get your January discount!
Our frogs have been very active this past week with the blue jeans calling like mad. The azureus pairs have once again laid another clutch of eggs this week and our existing froglets are getting bigger and bigger. Check out the
AAAfrogs.com
website for the latest videos and pictures from our frog rooms.