Discussion Starter
·
#1
·
This is a guide on how I culture FF's. It can be done in MANY ways. This is just one way that works for me. Experimenting is key in making cultures. Hopefully this will be a start for new frog owners who will be culturing FF's.
First off reach into your box of 240 cups/lids (32 oz.) and get some for making the cultures. What, you don't have 240 of them just lying around.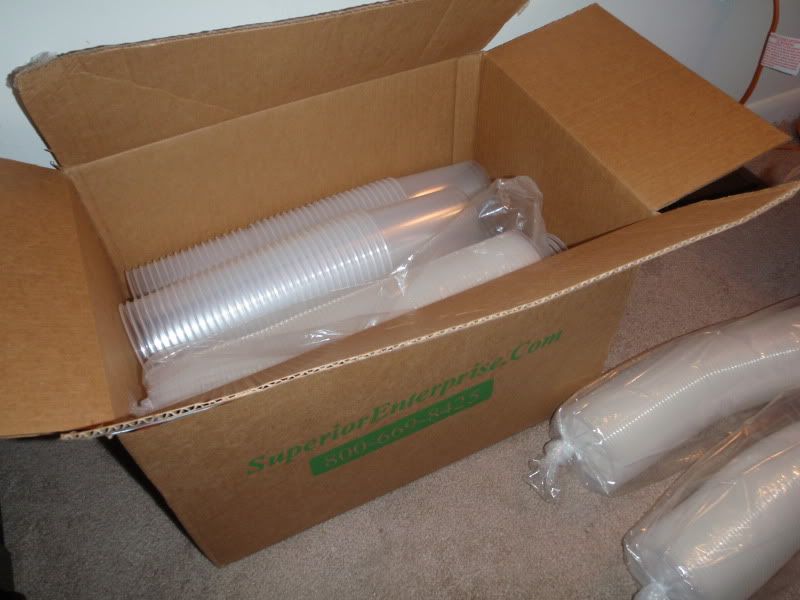 Get out your media. I use this simple recipe.
6 parts instant potato flakes
1 part powdered brewers yeast
1 part powdered sugar
It's very simple but works, for beginners simple is key. This can be made when you make cultures or made beforehand and put into ziploc bags like I have done. Even put in the freezer if wanted.
Use a half of cup of media per container. This will double when you add the liquid.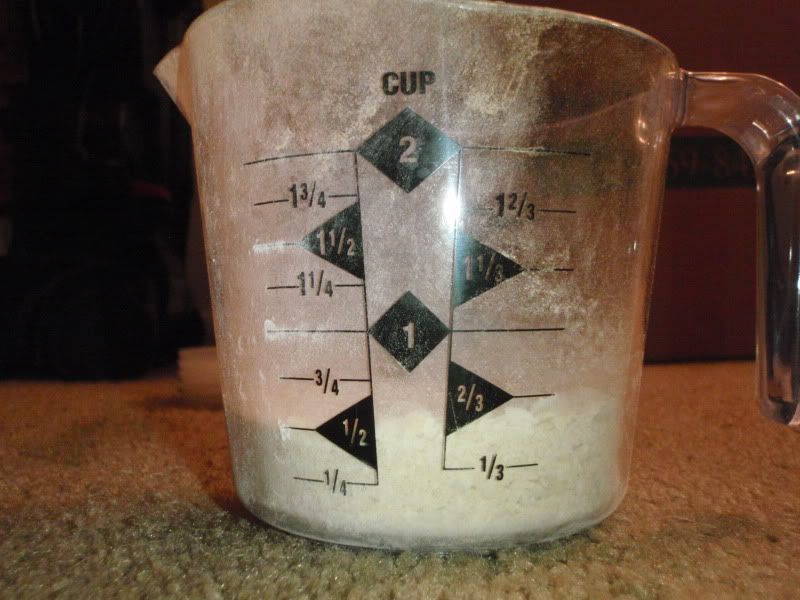 You will want to add the liquid now to the container of media. I use 1/2 cup of warm water and 1/4 cup of vinegar. Use warm or boiling water, it will make everything mix much better. The vinegar is a mold inhibitor. Methyl Paraben can also be used to prevent mold. It's available at many sponsor websites. It's a powder. I have ordered some, but if you don't want to buy it vinegar is another solution to mold.
The warm water and vinegar.
Normal cheap vinegar is all you need.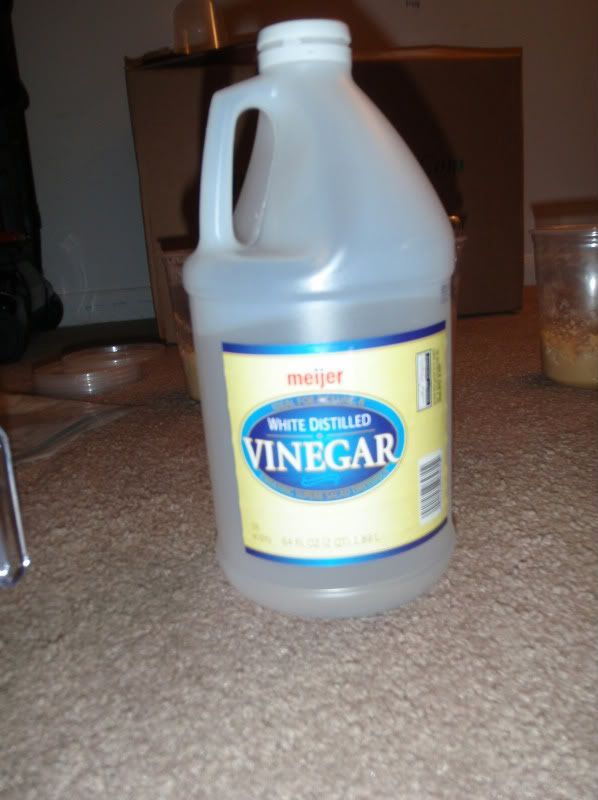 Just poured in liquids.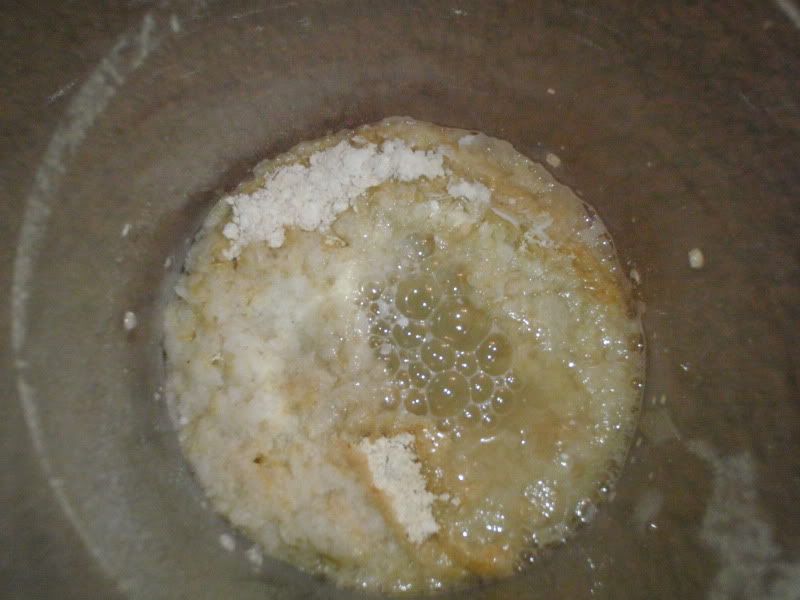 After your stir it a bit it will look like this.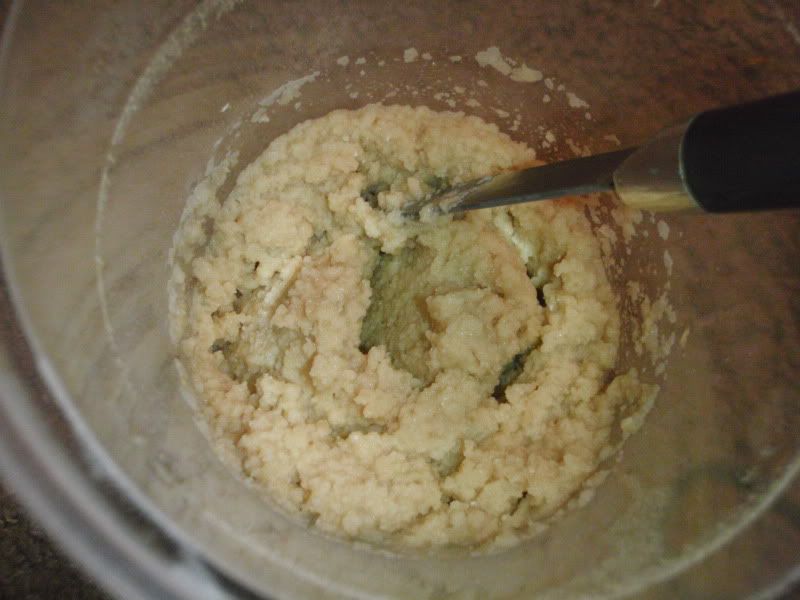 Your fancy stirrin' tool.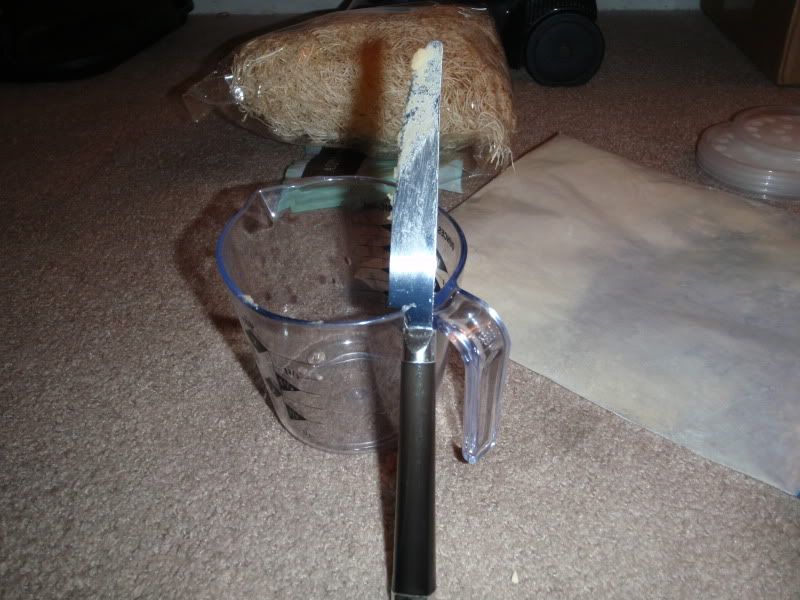 This what you want the media to look like after stirring for awhile. Takes less than 3 minutes to stir them. I also push the media down a bit to make it more level. Also if you look at the pic earlier with the dry media, it has doubled since then.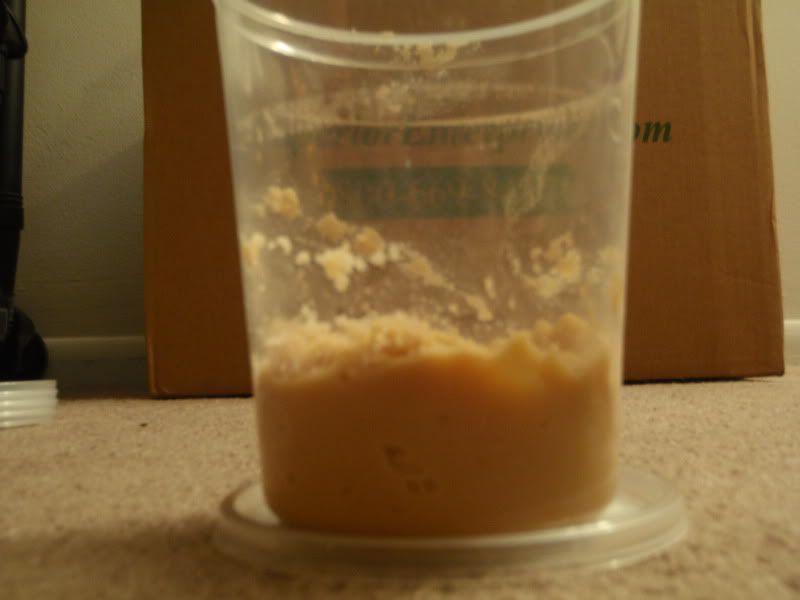 After this I microwave them. This is mainly because there are things called mites, they can and will destroy your FF cultures and turn them into duds. I don't microwave for more than a minute tops. Your just trying to kill any mites that MAY be in your media ingredients to start with. Your not cooking here, just nuking them for a bit. Let them cool for a bit after this.
The flies will need something to crawl on (you will have hundreds when it starts booming) so they don't just walk all over each other. There are many options for this. Excelsior is what I use. Coffee filters would be the second most used, but there are other options out there. I wouldn't mind using coffee filters or at least trying them out, just hasn't happened yet. If you do use filters, use more than a couple. Think over 5 at least folded up. For excelsior though take some out and make it into a loose ball. It doesn't need to be big, at all. Too much and your just wasting it. Just push it down a bit into the container with the media. Not alot, just so it won't move when feeding out the flies to your frogs.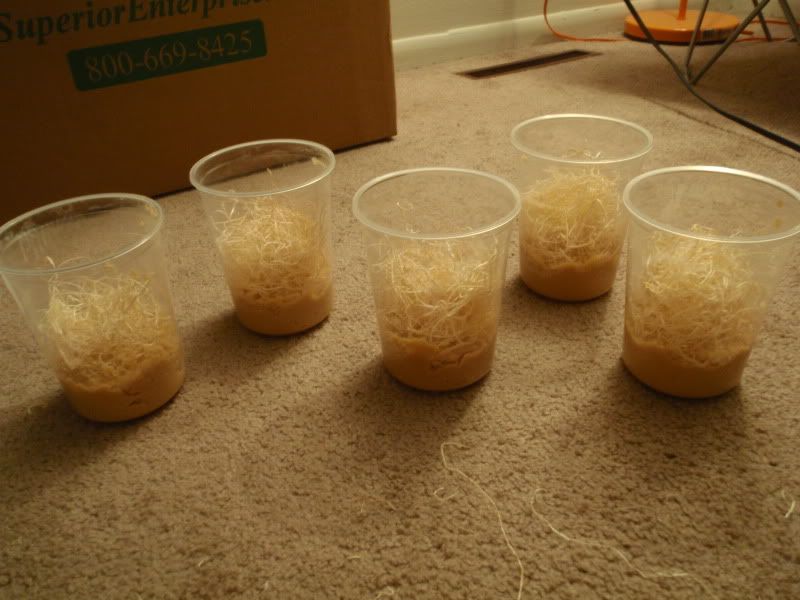 Next add dry active baker's yeast to the culture. The flies will eat this and it's just good for the culture. NOT ALOT, just a small small pinch. Were talking 20 grain tops.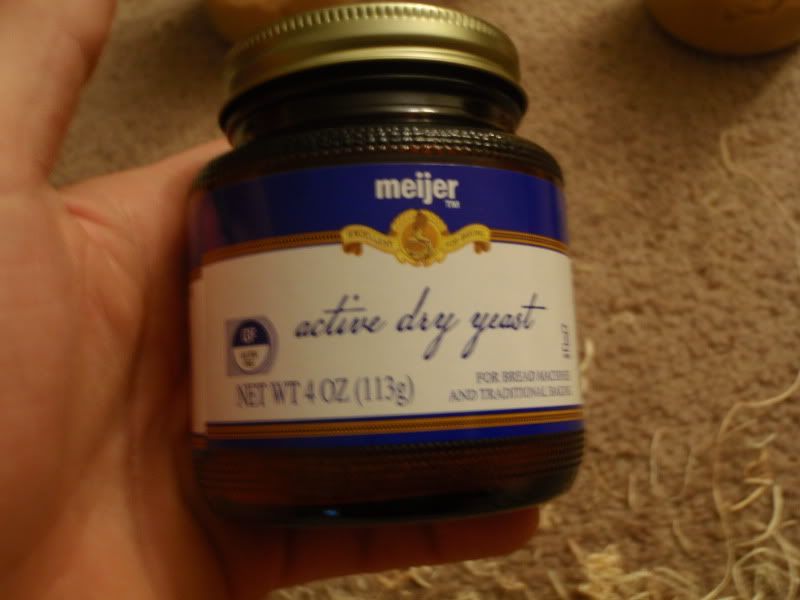 Next after this is adding the flies from an already booming culture. I didn't take pics. It's pretty simple after you make a few. Tap the established culture on the ground so the flies fall and take off the lid. The flies will climb to the top. Simply tip the established culture over the new culture and when they start to crawl out tap them into your new culture. Keep tapping them on the ground so none climb out if needed then close the lids on both when your done. 50 flies is a good number to start a new culture with. I just guess really, you will get used to it. I use two booming cultures to make 1 new culture. Preferable from different weeks in progress cultures. Say a 2 and 4 week culture for example.
After this it is good to put the date/what type of FF are in each culture.
After a couple of days you will start to notice that the top layer of media is a different color. If you look closer you will see the larva wiggling around
I made this on 12/26 so a week and a half later you will notice that the larva will turn to pupa on the sides of the container.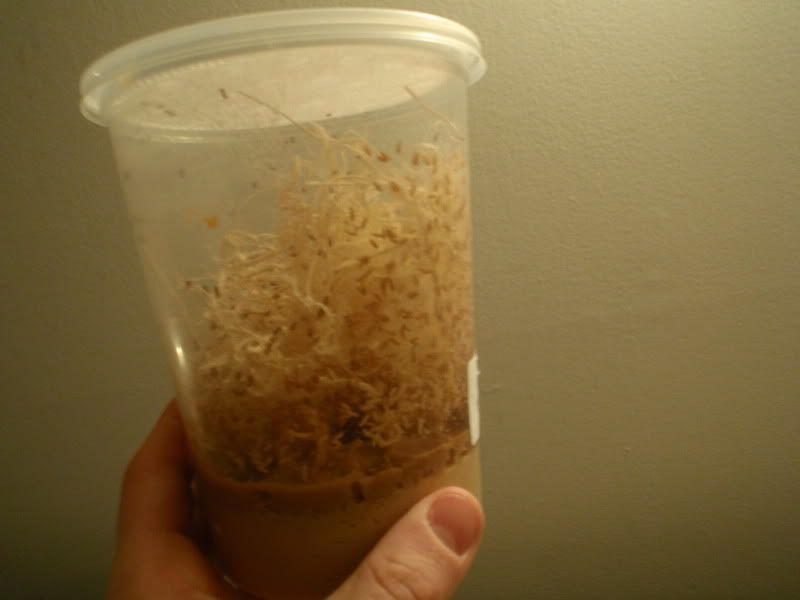 A week later and your culture is ready to feed out!!!!!!!!
Just some tips on mites. Their life cycle of a mite is around a month so it is good to throw cultures away after 4-5 weeks so you don't have a huge explosion of them. Mite are everywhere, you will get mites sooner or later. It happens, frogs will eat them actually but if you notice one with mites isolate them into a different place than where you normally keep your cultures at. Some things to stop them getting into all of your cultures is mite paper which can be bought at alot of places online.
This is mite paper underneath the cultures.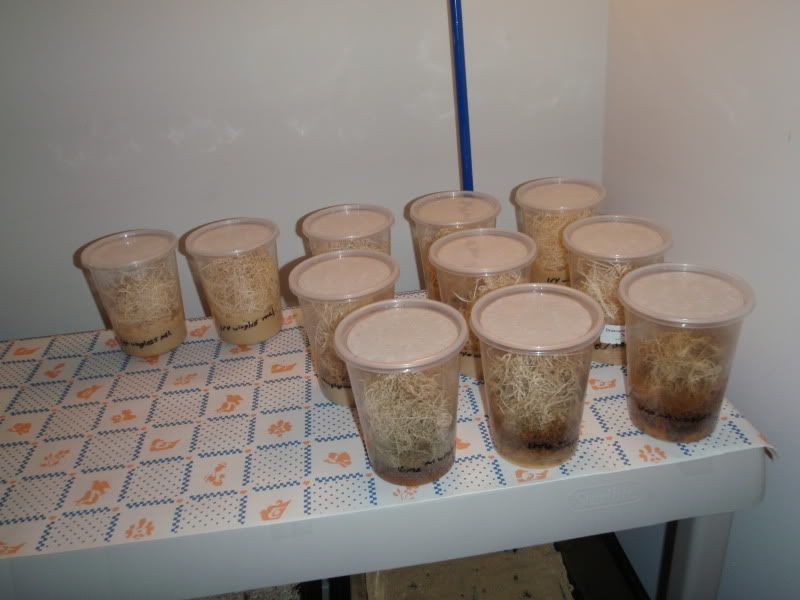 Also mite spray (bird version) can be sprayed on paper towels. You then put your cultures on the paper towel to hinder the mites.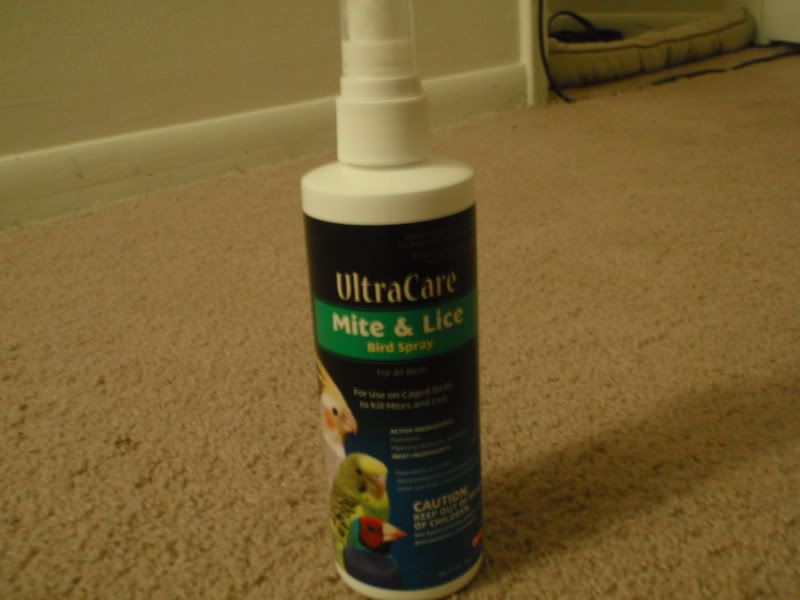 Well I think that's it. I didn't cover everything, but it should be a good start for a beginner making FF cultures. These cultures were wingless melanogaster.