Discussion Starter
·
#1
·
So I have been on the forum here for a little over half a year (I know, still a baby), and there have been a couple times where I have read of different things "dendro dave"was trying out. I decided to try a few. Instead of replying to the different original threads, I thought I would just make one here!
The first item is an in tank fan. Dave found this inexpensive fan that comes so you can plug it into a normal outlet even though it is a computer fan.
Red Sea Max Cooling Fan Kit
We talked about it in this thread
http://www.dendroboard.com/forum/parts-construction/64982-fans-other-than-computer-ones.html
The sweet thing about it is that it isn't too powerful. I can leave it on through out the day and it doesn't hurt my humidity at all, it does take a little of the condensation off the front glass so that is nice. I have a fogger and I filled it up with fog and then turned the fan on and there is a nice current that is created. Here are 2 pictures to show that I attached it tothe ceiling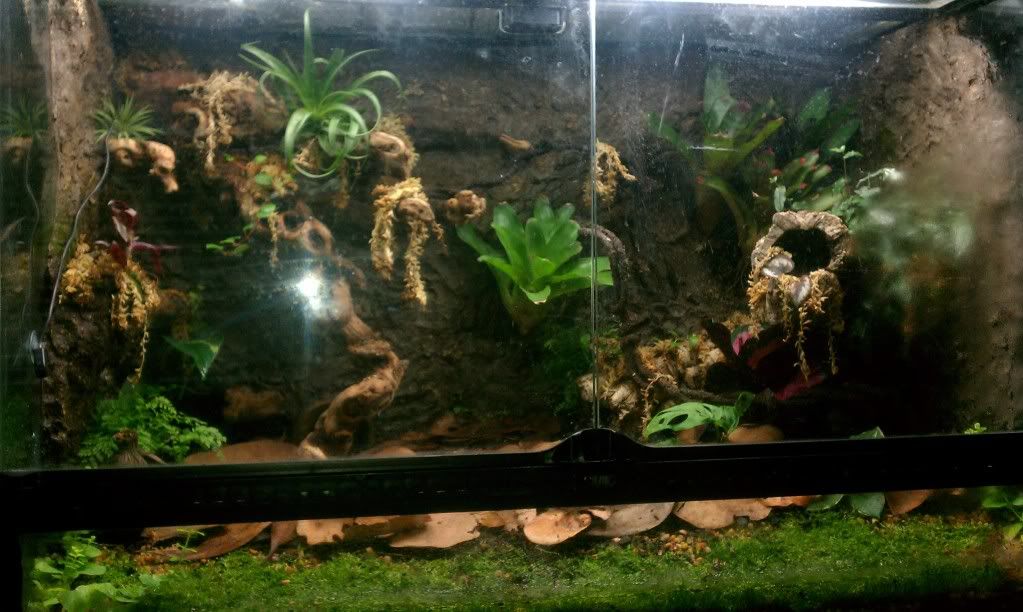 The second modification I made that I am way excited about is the fire flies. If you have clay background this is so easy to do. I will have them come on and stay on for about an hour at night. Here is a video of it:
Here is the original link to the thread about dendro daves fireflies:
http://www.dendroboard.com/forum/me...62074-firefly-lights-installed-hex-video.html
I'm surprised more people haven't done the firefly thing. What do you guys think?