Discussion Starter
·
#1
·
Hi guys,
I recently got my new viv and already started working on it. Here's a quick rundown of the situation.
- got the viv, day and night lighting, heat mat, thermo/hygro meters, pump for the waterfall, two coco bricks and a bunch of mopani wood pieces for under 150 euros. The people running the pet store were even kind enough to help me lug all the boxes to my crib.
-i also got a bunch of broms, big box of fresh live moss (no idea what kind it is so i'll post pics of it soon) and a small umbrella plant. The broms look a bit beat up, but unfortunately these were the only small ones i was able to find now.
Construction:
Pretty much the regular stuff with a few exceptions. I couldn't find any egg crate, so I made my false bottom from several plastic boxes and covered the whole thing with weed blocker. It turned out quite ghetto, but is durable enough to do the job.
Here is how the whole thing looks like right now. I'll wait for another day or two before the foam cures completely and will cover it with black silicone/coco substrate mixed with a bit of dry moss. Am I overdoing the planting part? Also, would it be ok to triam the umbrella plant every once in a while, as it's already quite high and will block most sunlight if it keeps growing too fast. The viv will house two young D Auratus plus a third one i'll be getting next month.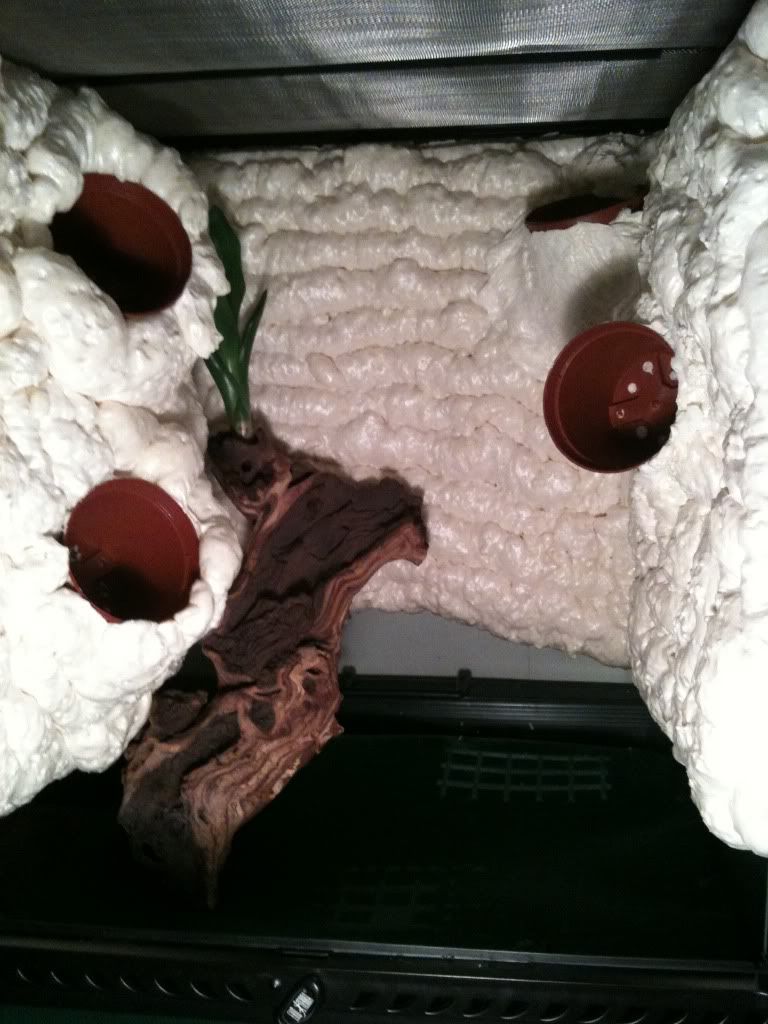 PS: Sorry for the crappy pics, I'll make sure I find my camera for the upcoming ones!