Discussion Starter
·
#1
·
Hey everyone. I'm Brandon (for those who don't know
)
It's about time I finally start a real tank...
The one I have on her before was just practice and I've learned a lot from it.
I'm sorta being forced to build this tank tho....
My ex is being crazy and I'm having to sell everything I own move away back to Bristol.
Might as well build this while I have a chance cause who know when I'll have another.
I've been saving up supplies here and there.
I'm going to having someone babysit my viv for a month or so and I'm coming back to get it. I hope to find a job quick and get some PDFs. Please feel free to suggest some for this tank.
Hopefully I'll get to meet Zoomie/John and gain more knowledge on PDFs since he lives in the area I'll be moving to
Ok so this tank is mostly inspired by Grimm and james67
I'm going to be doing a duct system and hanging vines based upon Grimm's
http://www.dendroboard.com/forum/parts-construction/65988-peninsula.html
Then the vines coming off of the bacground of james67's
http://www.dendroboard.com/forum/parts-construction/71971-29-rebuild-teaser.html
Also inspired by each and everyone of you who contribute your threads for us.
This tank wouldn't be possible without all that you've all taught me.
Ok now for some pics of what's going on so far....
Here is the tank....missing the top peice of glass(door)
gonna get it soon.
As you can see I painted the bottom to cover the false bottom and give it a sleek look
Side view
Here is the false bottom...I did a pedestal type of thing and let the edges overhang. That way it can be removed easily and have a tight fit and also it's just so much easier to attach my screen. Plus it's super sturdy so no sense in a support in the middle. The screen btw is bug proof window screen and is pretty much like combining weed block and window screen. Each hole is maybe the width if a sewing needle.
I made my light fixture myself. It was a regular 10long fixture but it had incandesant sockets
I was happy to find this at the local petstore for $5. I cut it down to fit the top of the tank then I expoxied the sides back on. I will be installing a fan on top...(diagram below)
Here is the bulbs I bought....hopefully it will be enough...
Lights on...
Do you think they'll be enough?
For my night light I have an blue LED strip that I got on a trade for my Atari 2600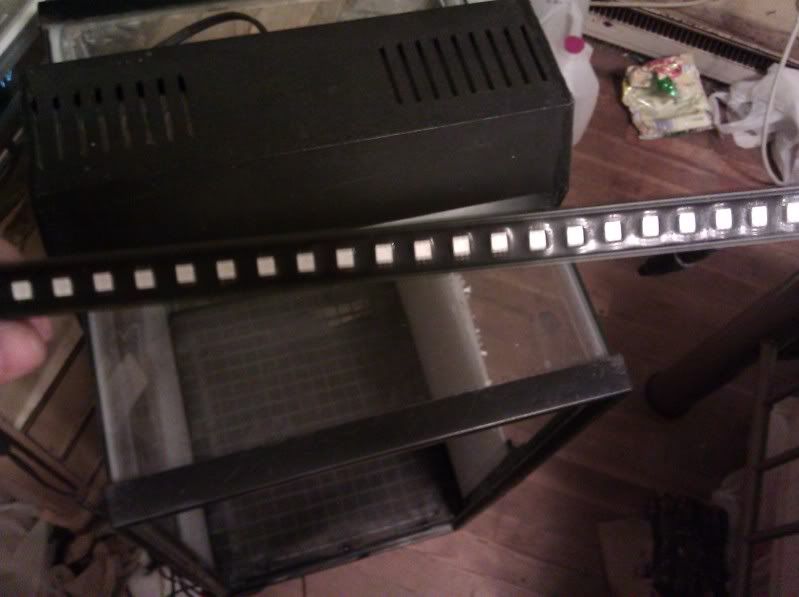 LEDs on....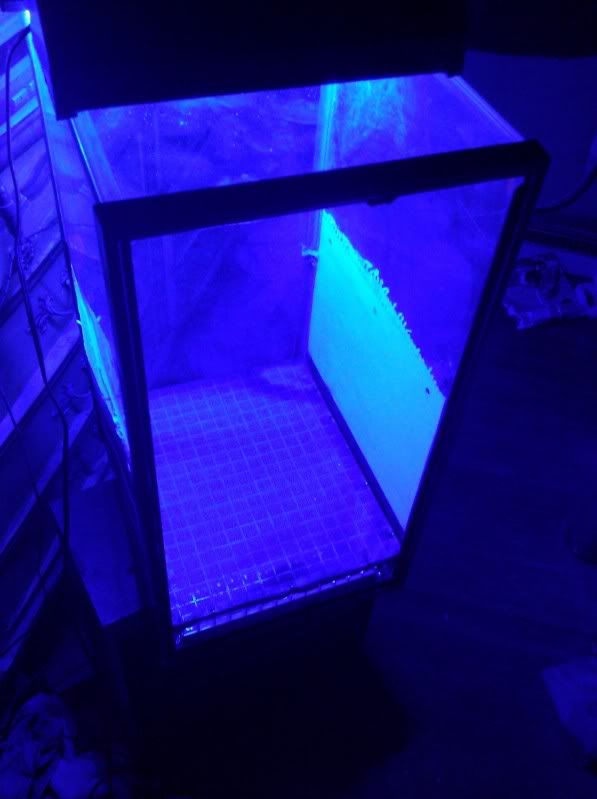 Yeah I know they are a bit bright lol.
Ok now I'll show you exatly what I was talking about with Grimm and James' vivs
Here is the hanging vine design by Grimm...
http://www.dendroboard.com/forum/parts-construction/65988-peninsula-20.html#post592846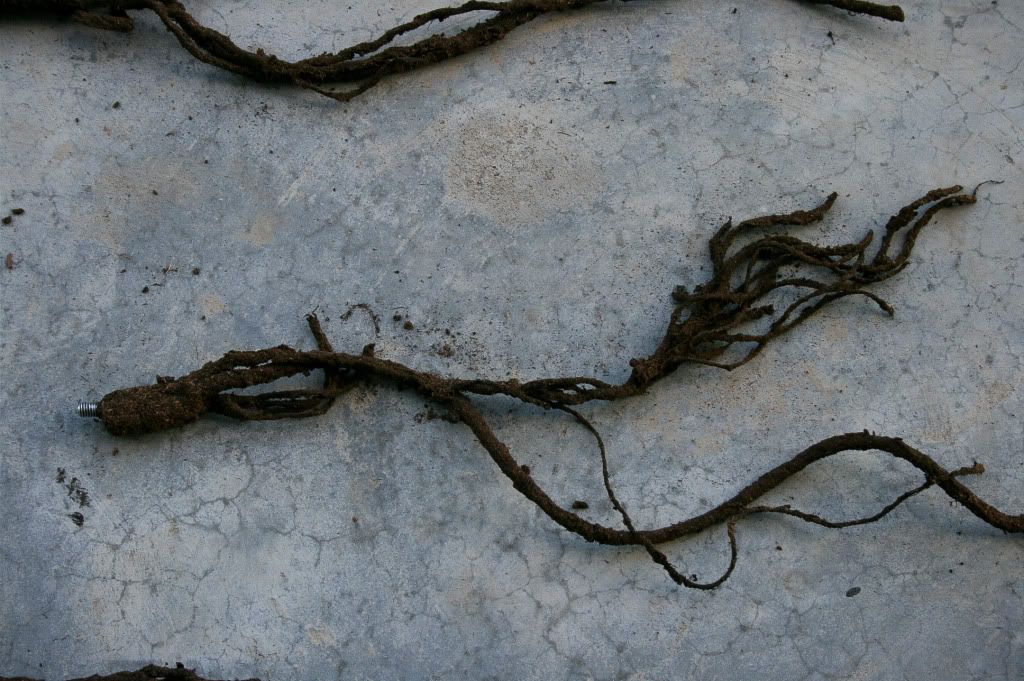 I would find his duct work vid but it took me too long to find that pic haha
I won't be doing the bolt idea and drilling the glass.....istead I will be epoxy gluing it to the top of the tank then sealing it with silicone.
Here is the vine work inspired by james67.....
http://www.dendroboard.com/forum/parts-construction/71971-29-rebuild-teaser-2.html#post633793
As for plants I don't have such an awesome selction as most of you cause I don't have time to order any but I will be updating them in the future.
This is my 29g green house that is lit by a PC fixture and has a fan inside.
Here are the plants I have...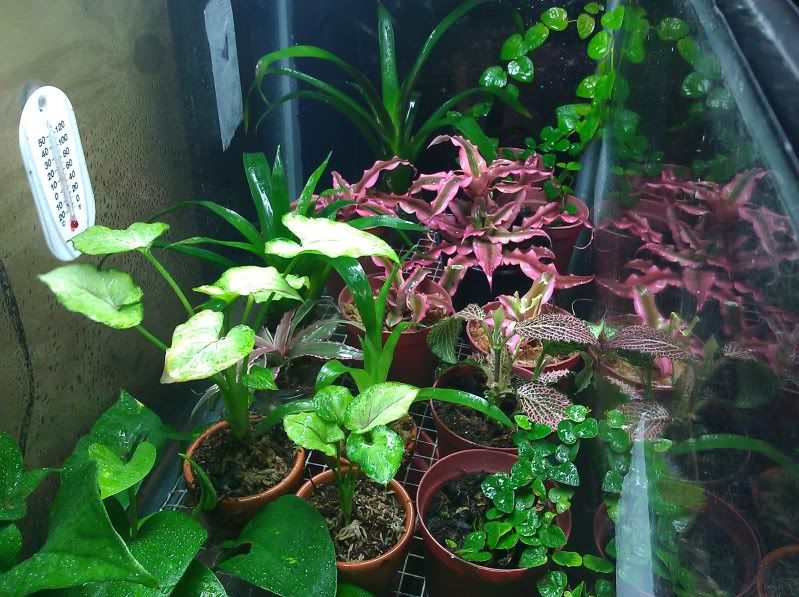 Ok so here is some rough sketches of what I plan on doing....
The fans are 1 9/16" and I'll have 2 of them hooked up to a power adapter with adjustable voltages so I can runs the fans slower if needed..
I wonder tho....should I put the fan on the light fixture sucking air up or should I have the fan blowing into the fixture?
Also with the air system which do you think I should do....have the air going into to the top and out the bottom or into the bottom and out the top?
Thanks for reading and checking out my thread. I hope to have it all done soon
I hope to add a Mist King starter system to it once I get enough money and get better plants like I said...
Now time for a nap and then to go get the adapter and fans.