Hi all,
I have been around for a while but haven't shown any of my vivs yet. I remember the forum used to be more active when I started in the hobby and had to gather info.
I almost finished a 36x18x36 ExoTerra viv. I have pics of the process but won't show those unless there is any special interest. The build will seem a bit odd for this enclosure as it is a 3 side view, where the side against the wall is NOT the wide side in the back.
Some info:
- false bottom with egg crate/weed fabric
- 2 big pieces of driftwood bound together to create main branch, hold by an artificial base
- some small pieces of manzanita wood
- home made ABG mix with some extra stuff
- small pump to recirculate the water from the swampy/water area.
- some hygrolon for moss growth to separate water from dry area
- white LED lighting I have been using to grow/propagate plants indoors
- a few red/blue 3W LED chips
- computer fans to move the air inside the tank (to be installed)
- rain system (to be finished)
I know that most of hardscape will be covered with moss, ferns and climbers, so I did not waste time in fake roots, rocks and small details.
I have been a plant person as long as I have been an animal person, so the tank is heavily planted and there are a few more species to be planted.
It has been "alive" for a month now and the plants are adapted to the new conditions and showing some growth. I have had an explosion of springtails in the tank. I even have to feed them to keep the population up. This will end after the inhabitants arrive to their paradise. I will make a full list of plants after I have the new additions. Many bromeliads, some orchids, ferns, different mosses, some aquatic plants and even cacti. Far from being a natural biotope as it contains plants from many different locations. I am in love with thumbnails, so it will house a group of Ranitomeya (species revealed when I get some photos). Sometimes I like a dominant bromeliad species, but in this case, I wanted variety in sizes and colors. Most plants were small cuttings I grow in bins and I "planted" different mosses as chopped moss, but all doing very well after a month. I am growing a lot of moss in containers to cover most surfaces of hardscape after I am done with planting.
I hope you enjoy it. I am open to suggestions, well, not really
Message me if you want to know anything else.
Main views: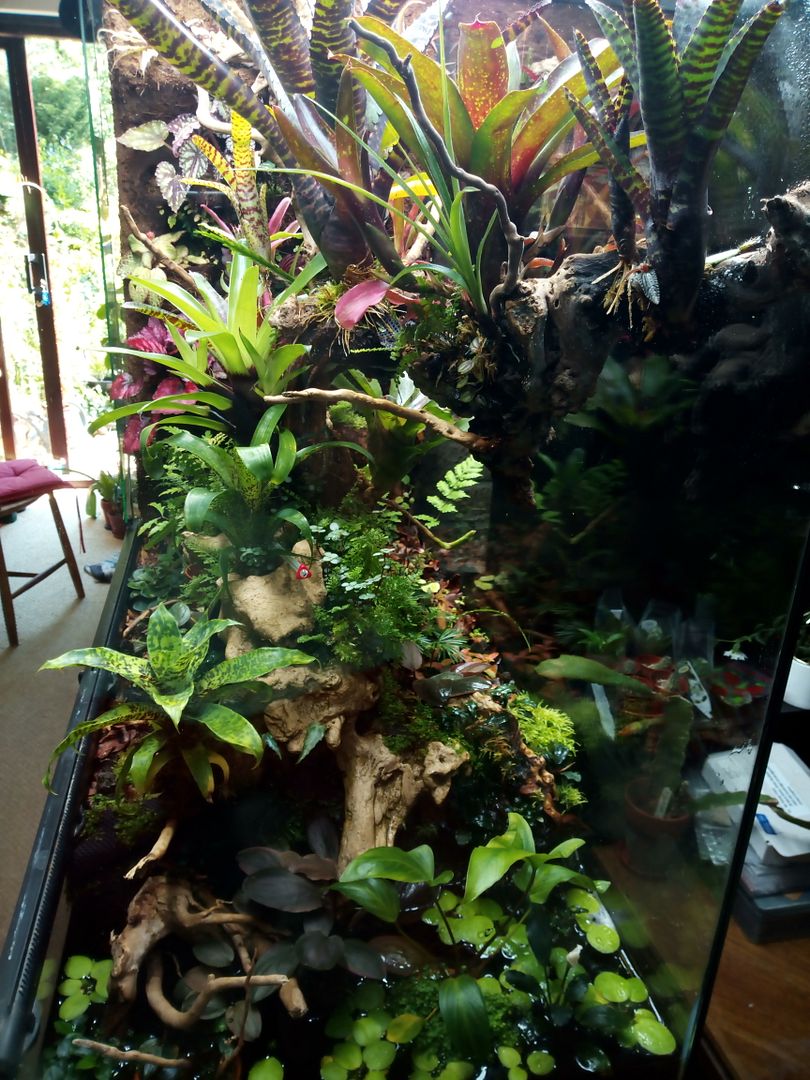 Details: