:roll:
Anyway, that title aside, I've been doing a ton of reading over the last several couple of months. Gone from a 15 to a 20 tall as a vert to a standard and easier to convert 20 tall normal way. Will be keeping (almost certainly) D. tinc. 'Cobalt' so a terrestrial layout makes sense.
The tank will be very basic - it's a first try so I'm not going to be going all out here or anything. I have a few pieces of driftwood I'm going to be using, a layout probably something along the lines of this: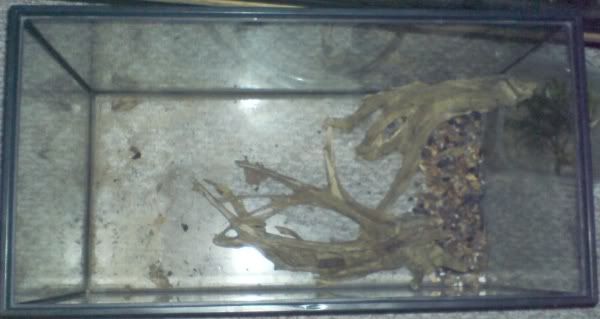 Planting will follow this basic plan: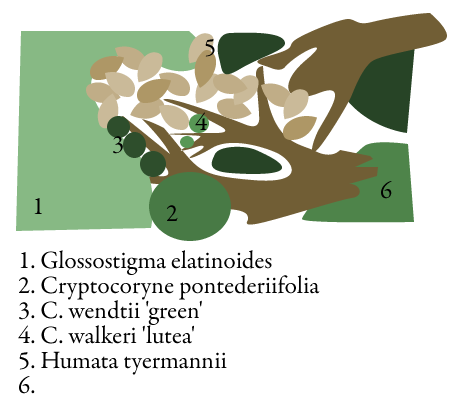 The tank will be viewable from the front and side (north and west on plan)
The substrate will be a mix of fluorite and topsoil in the front (or maybe not mixed and just fluorite with topsoil on top). The back half will include a drainage layer (I'm thinking orchid charcoal for the weight as I'll be moving this in April and don't want to have to tear it down) with small bark chips and stuff...
I'll be going for a very basic forest floor look so a ground cover (glosso or HC) with some other green plants like the three crypts and ferns (white rabbits foot fern is the one listed) might try to also find a korean rock fern for the north east corner instead of more rff. South East I'm looking for something tropical-looking... Haven't decided what, looking at
Dracaena compacta
but waiting on some replies before I go out and buy one - also very open to suggestions for something there (green, large tropical leaves, if there are flowers white would be preferable). I also have a few tillies I could toss on the wood... I'll decide on that once I've started putting it together. Oh, and the things that look like leaves are going to be... leaf litter! this is basically the transition area between substrates so not much would be happy growing there and leaf litter not only makes tanks look more natural, especially forest floor type tanks, but also provides good areas for micro fauna and the like.
Thanks for looking and hopefully I'll have some progress pics
very
soon (especially before the term really gets going and I don't have time for this - note, not getting frogs until I'm out of university for this very reason, but the plants can still get growing in advance.) Comments and suggestions much appreciated.