12-20-2008, 03:31 PM
Member

Join Date: Mar 2008

Location: No. CA

Posts: 1,451

Thanks: 3

Thanked 22 Times in 17 Posts
And even more puppies!
---
This is my litter of border collie puppies at about six weeks. They'll be seven weeks old on Monday.
The upside down one is my keeper, Ceilidh (pronounced kay-lee for those of you not into gaelic)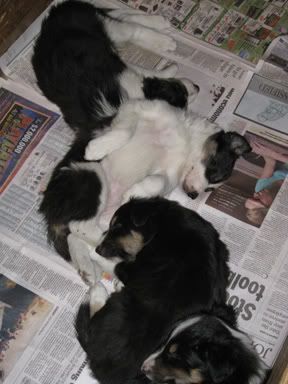 Hopefully I can find great new homes for the rest in a couple of weeks. I'm ready to settle down with just mine (and of course my other two). Homes with sheep, agility, obedience, etc are a plus. These guys HAVE to have a job and keep their minds occupied. Not a breed for everyone, but I adore them!
Deb
__________________
Frogs & vivs? Enough to substantiate a diagnosis of OCD...