My philosophy on "the hobby"
---
Why I love this hobby.
I love fiddling. Tweaking multiple parameters and honing them to allow a stubborn system to flourish. I love watching a long which process which changes and grows into something better than it began. The process of going from an egg, to a tadpole to a frog is such a process. Isnít it marvelous how nature has designed such an elaborate, mesmerizing system? And to top it off, these frogs are active during the day, climb all around their enclosure and are beautiful beyond belief.
Iím a sucker for the tropics, having grown up inundated with propaganda from my school about how we need to save the rainforest. I think that the rainforest that I grew to love from the videos I saw as a child is only a fantasy, more lush and full of color than could possibly exist in nature. There is something both comforting and exciting about the mix of vibrant green and striking bold colors; something enticing about so many creatures coexisting as part of this great, beautiful, complex machine. While such a rainforest may not exist in nature, some vivaria come pretty close, superficially at least.
When I was a kid, I loved to germinate seeds and watch them grow. I would watch as infant bean plants stretched toward the window and eventually toppled from their own weight. I also loved watching the plants in out garden, noticing when a new stalk was forming or if a fruit was forming. There is such anticipation, such a slow process can be so exhilarating. Any orchid grower knows the joy of that. One of the most rewarding parts of this hobby, for me, is to start with a sparsely planted terrarium and then watch as it slowly gets colonized over time, with minimal input from me.
Another joy of this hobby is the process of experimenting. If I have an idea about a new way to do something, I can try it, and if it works I can share it with everyone else. If it doesnít work, then I can share what a bad idea it was. I think this hobby has VERY few absolutes, even if some dogmatists would like us to think otherwise. The inability to think outside the box of whatís acceptable is potentially more detrimental in the long run. Sure, there are certainly some very knowledgeable, experienced people among us. But if we never questioned dogma in our society, we would be much worse off overall. The same is true for this hobby. So please, if you are feeling adventurous, donít let the dogmaists talk you out of your idea, but also realize that you cannot complain if you get burned.
As a final note, I would like to say that I believe that our focus as conservationists should be on preventing the smuggling/export of frogs and maintaining their habit in the wild. Itís noble to think that we may be able to sustain a wild population equivalent in the hobby, but Iím not sure that we should attempt this by exporting more animals.
Just some ideas. Hopefully this didnít offend anyone.
-Mark
And for fun, here is my indoor garden.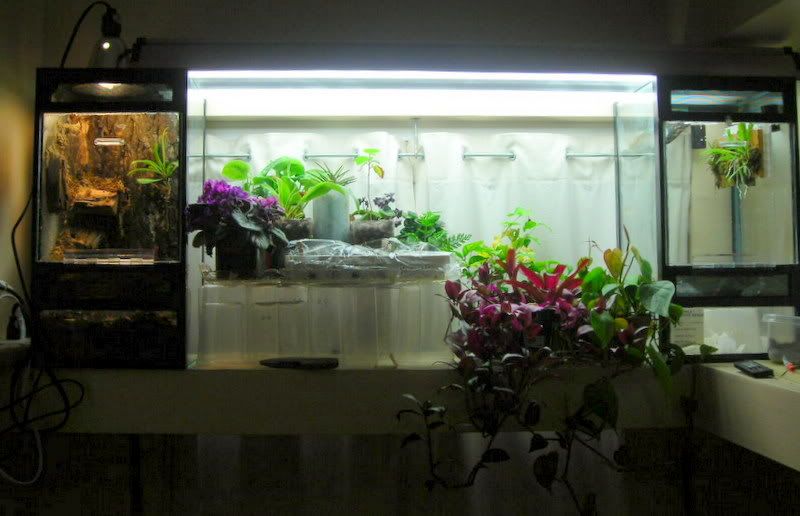 Comments