pulled tad
---
I pulled the tad out of my viv last week. It was difficult. First I tried to suck it out with a syringe, but the syringe was too big. Then I tried to force him to the top by dropping little pieces of LECA into the brom. But he got trapped under the LECA, so I had to pull an emergency evac and pull out the brom. He made it though. I brought him into work, where the temps are more stable, and now I can observe him through the clear tube I have him in. I'm feeding mostly tad bites with a little sera micro thrown in.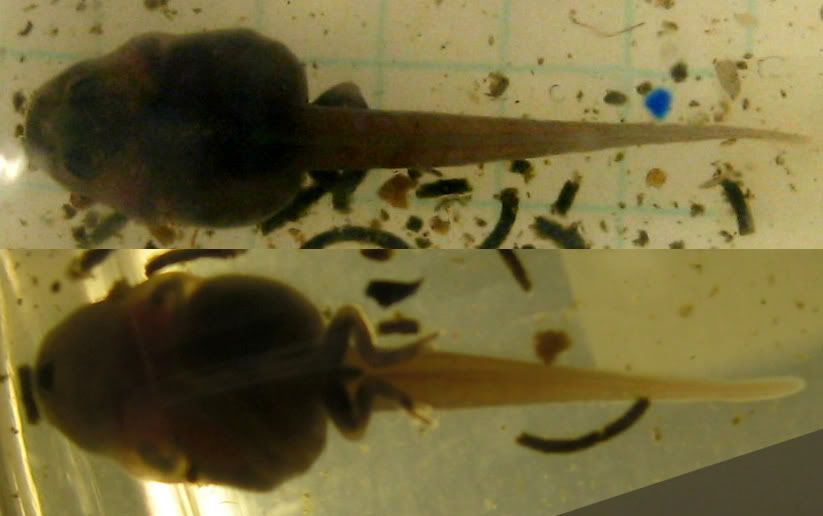 They have since thrown 2 more clucthes, first 2 eggs, then 1. I've also started supplementing them again, as they finally cleared all of the flies over-running their tank. I've found that the best way for me to get them vitamins is to put about 10 flies+vits into a film canister, and put the canister right in front of them.
The first clutch started developing, but then they knocked it off of the glass onto the ground and i think i killed it trying to get it off of the substrate. They laid the second clutch last night in a film canister and I haven't gotten a good look yet. I guess I'll find out if its good in a few days.
I've also recently ordered some Dendrocare to supplement them, because I just learned that Dendros are bad at turning b-carotene into vitamin A. That is surprising, because hertivite has no vitamin A, only b-carotene, suggesting that my frogs have gotten no vitamin A for over 7 months (and the breeder I got them from uses hertivite), and they don't seem to be suffering from a vitamin A deficiency.
Comments
Posted 11-04-2008 at 08:59 PM by

markbudde