Back from China
---
OK, first update since I have gotten back from China, which was AWESOME! I figure if I don't post soon then I won't start again, and I dont want that!
Before I left, I put a culture of flies into the viv, so that my frogs wouldn't starve. I came home to a viv overrun with fruit flies, and pupa all over a nine-inch radius from the bottle. Also, some media had oozed from the vial into the leaf litter and was crawling with flies, larvae and springtails.
I had placed the fly vial near the bottom of the wood with the brom+tadpole, and there were flies all over the brom and I think they were irritating the mom. So I immediately took the fly vial out and sealed it, but there were still hundreds of flies in the viv. Flies usually die after about 4-5 days in the viv, so they should be gone soon enough, but all the pupa will keep emerging for up to a week. Plus there are still maggots crawling around in the media that spilled onto the leaf litter. And springtails EVERYWHERE.
I figure I can refrain from feeding for the foreseeable future, but I would like to get vitamins to the frogs. So that's a problem. I added some vitamins and calclium to the tad, but i think i may have added to much. I hope it's OK. I think I can see little legs on it, but the water is too murky to tell.
When I came back, there were 2 eggs about 7 mm above the water line of the tad, so i figured mom left them for the tad but didn't put them low enough for it. The next day they were gone... Did mom push them down in the water? I'm going to pull the next few fertile eggs so I can watch them in greater detail.
------------------------
My orchid finally opened when I was gone, and has started another spike and 2 new buds, which may be spikes or leaves, I can't tell yet.
Zlm. Teipel's Goldbar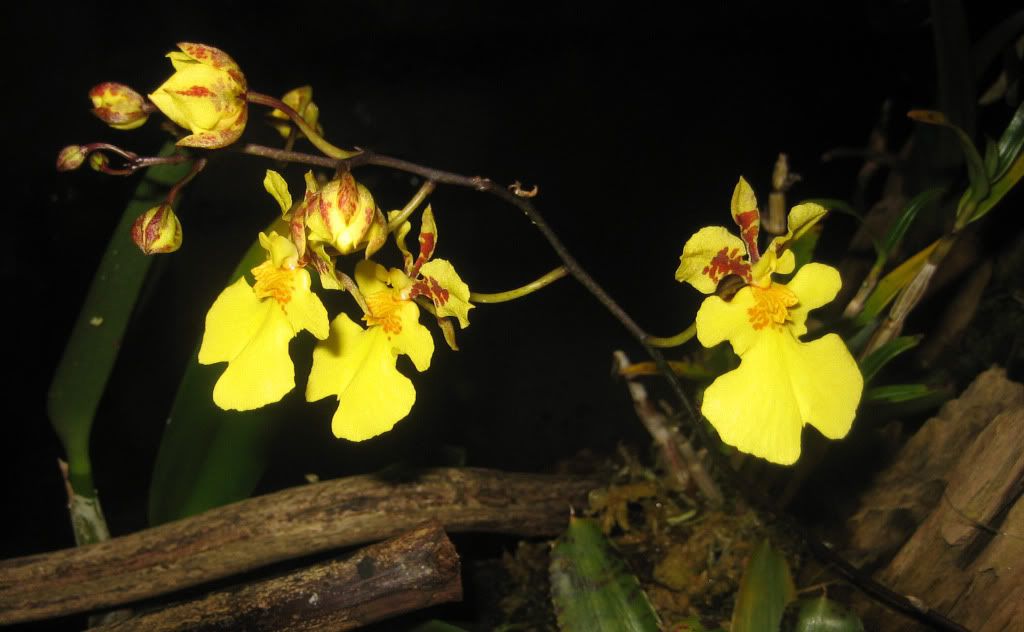 Also, my dendrobium looks like it is about to put out upwards of ten flowers, so that's something to look forward to.
I found some snails in the leaf litter when I got back, and applied more sluggo, but it seems to have plateaued out in efficacy. I might quit adding it, because I don't like the chemicals in my viv. The springs clearly gorge on the stuff, and the frogs eat the springs... Now I just wish I could get my hands on some nemaslug.
I might end up gassing the whole viv to get rid of the snails and slug, but...
A) I'm not sure I could kill them all off with CO2.
B) I want to get an amphipod culture going before I do so, but they are hard to culture.
Comments
Posted 10-24-2008 at 09:54 PM by

Scott