Hey all,
So for the past few days, I have been looking into vents and ventilation ideas on DB via search function. Right now, my 2 split 55 gallon tanks have no venting (both have full glass tops....perfecto ones with the small plastic strip on the back). I'm having no issues with temperature, I just installed a new thermostat in the house that is set to 72-73, the frog room ranges from 72-74 and tanks sealed range from daytime 73-75 floor/76-79 top (peaks 80 top on some thermo checks) and low 70's during the night. I also installed a ceiling fan so I could use every now and then to circulate air in room....plus I have my thermostat on "refresh" which moves air around the house. I dont have a humidity checker, but glass stays foggy. Frogs are all out and very active with all glass tops. I've tried taking out the back plastic part and replacing with mesh....venting my tanks(ghetto style) and did not notice much of a temp difference and did knock down the foggyness of the glass, but was not satisfied with the overall ghetto design so replaced it back with the plastic to get a full seal. It did seem the frogs were more active when I had a sealed tank vs my semi ghetto vented attempt...just a observation I encountered...
Anywho...I've looked at the pros and cons of each...with the all glass tops with no ventilation, you get very high humidity, but lack of fresh air exchange plus possibility of increased heat in summer months. Sure lifting the lid to mist and feed could be enough, but I've been thinking that I'd like to add some permanent form of ventilation in some format as this is better overall for plants and frogs, so here is the issue and would love to hear your opinions.
One way I found was a fantastic "how to" thread by Pumilo found here:
Screen vent construction how to
I could replace the back clear plastic (which is around 1"-1" 1/2" wide by 24" long ea) with a custom made mesh vent which would be safe and secure. My questions with this would be: Would a full 24" strip of ventilation be necessary and would that drastically lower my humidity? Would I get proper venting with it in the back of the viv? How much venting is recommended? Yes, I could just do the full 24" per viv and cover up the venting if needed, but just curious.
Option B would be actually drilling holes in the top and covering those holes with NoSeeUm mesh. Additionally, questions would come up as how many holes? What sizes? ect ect...
Really what I'm trying to figure out is the safest and the best way to get optimal ventilation without affecting temps/humidity with my vivs.
I've always thought to myself opening the lids everyday would be enough air exchange, but I'm on the fence now and would love to hear your thoughts. I've read alot of them already in previous threads, but not over my specific thoughts.....if that makes sense
Or you could just say "Stop worrying, your overthinking this dude!"
If it helps, photos of the vivs in question...two split 55 gallon(seperate glass tops per side FYI)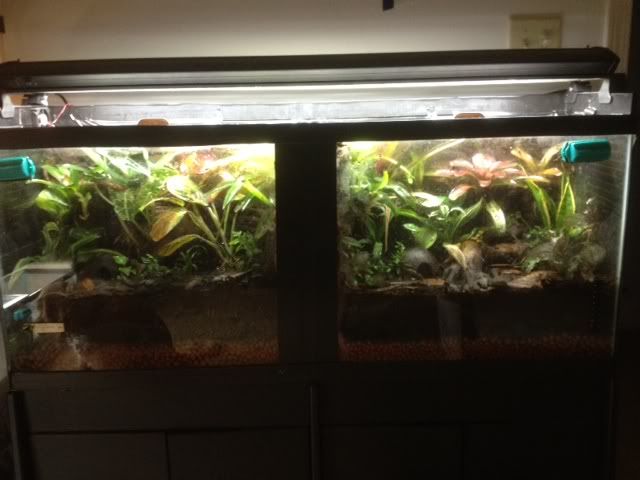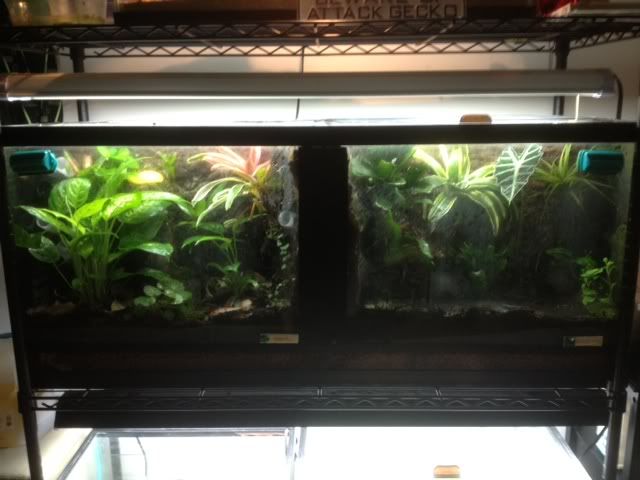 Thank you for reading my short story and any helpful tips/tricks/suggestions are appreciated !